UMCES graduate student Aaron Watson has been awarded the M.P. Mulvihill Aquaculture Student Scholarship by the United States Aquaculture Society to support his studies at the Institute of Marine and Environmental Technology.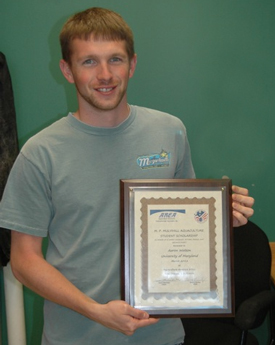 Presented at the World Aquaculture Meeting in New Orleans, the scholarship was established by the Mulvihill family and Aquaculture Research/Environmental Associates, Inc. to honor the passing of Michael Mulvihill from his battle with cancer.
The $1,500.00 scholarship will help further Aaron's graduate work with UMCES@IMET Professor Allen Place.