Our last Environment and Society class was structured differently than normal. This was the second lecture where everyone was required to attend class in person. I was thrilled to visit the MEES lecture halls with all of their unique artifacts that I'd heard about from other students. Instead of our awe-inspiring instructors, Michael Paolisso, Bill Dennison and Suzi Spitzer, teaching us, we gave them a break by lecturing in their place. Each student presented a five-minute lightning talk highlighting the major components of our final papers. After each presentation, a five-minute discussion for questions, constructive criticism, ideas, and other suggestions followed. Each student volunteered or was "voluntold" to take notes for another presenter. This was something I've never done before and now I realize it is essential, because usually in the discussion one is still running on adrenaline. The minute someone sits down after a talk, they are prone to forgetting the questions or constructive insights conferred.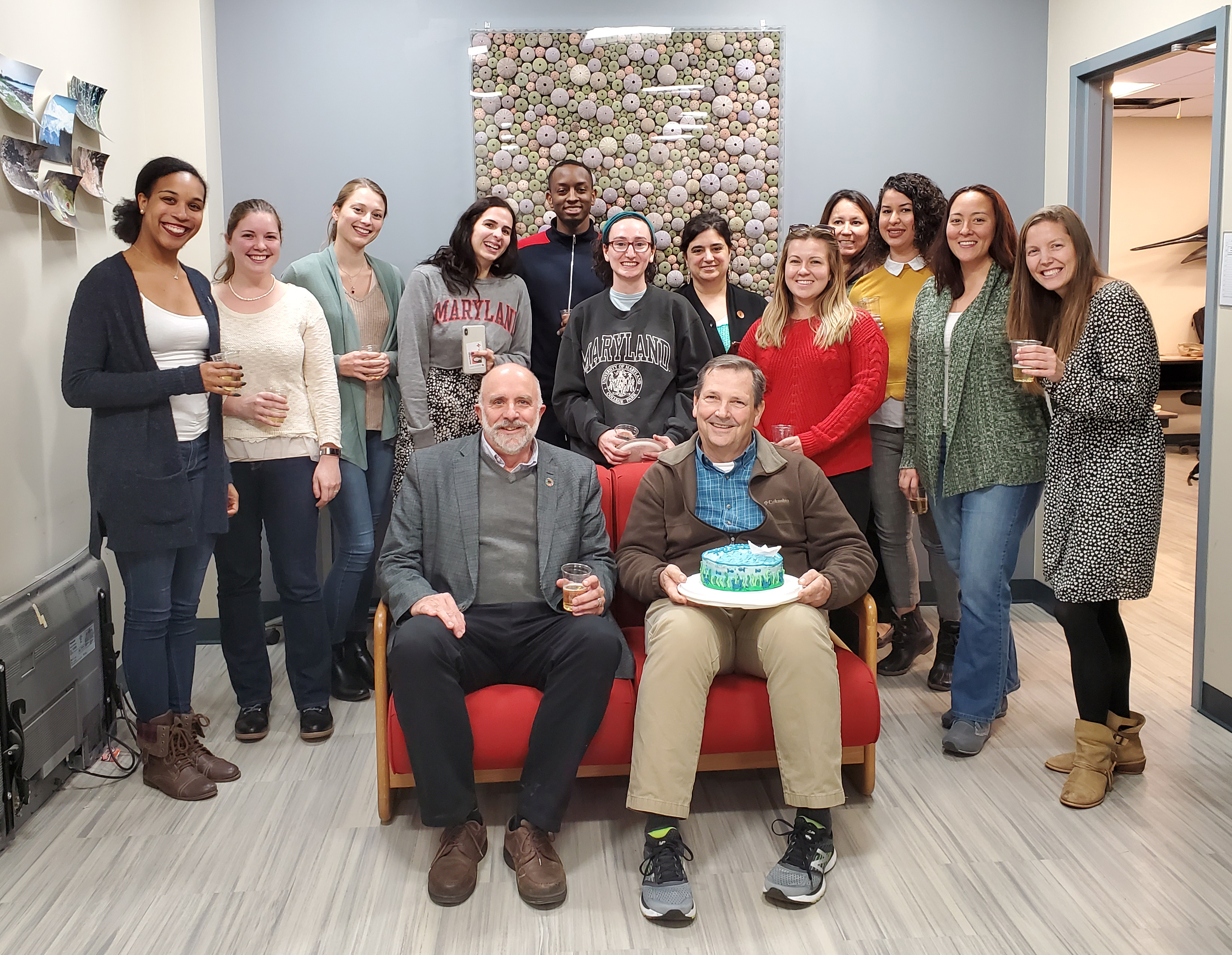 Each student presented a "coupled human and natural system of relevance to their graduate research, outlining a new interdisciplinary approach for researching the system".1 These were the topics discussed:
Taylor Gedeon – Humans and wildlife: Conflict or coexistence?
Kayle Krieg – Sustainability on the shore: Coupled human and natural system dynamics of the Maryland Coastal Bays.
Andrea Miralles Barboza – Managed retreat/ Organized relocation: Defining potential pathways for sea level rise responses in coastal communities.
Megan Munkacsy – SAVs, oysters, and coastal communities: An interdisciplinary approach.
Enid C. Muñoz Ruiz – Landfill scavenger: A child's means of survival.
Amanda Rockler – Increasing stormwater best management practice adoption rates by integrating the natural and social sciences.
Isabel Sullivan – Bat blitzes revised: An examination of transdisciplinary collaboration.
Faith Taylor – Interdisciplinary approaches to environmental justice.
Allison Thieme – Remote sensing for environmental justice in the Kayapó indigenous territories.
Hamani Wilson – Exploring approaches to food insecurity and drought resilience in East Africa.
Many approaches for understanding society and environment interactions, as well as researching coupled systems, were applied by one or more students. Taylor is going to apply science and technology through GIS risk mapping and ecological economics for incentives to increase wildlife tolerance. She will continue with ecological anthropology and cultural consensus to achieve her project goals. Kayle is using sustainability, environmental science, and economics to produce feedback models of human-bay interactions. Andrea will use environmental science, environmental justice, and political science to study the effects of climate change sea level rise on flood-prone sectors across the Eastern Shore, which is causing residents to relocate. Megan will look at oyster, SAV, and aquaculture community interactions within the Deal Island Peninsula. She will use environmental economics to look into the direct and indirect benefits of the habitats and oyster fisheries, and with this data, build a consensus model. I will use environmental justice and political science and an ethnographic approach to study the socioeconomic background of communities in the Philippines where pre-adolescent children are removed from schools to scavenge landfills looking for plastics and cans to resell as a source of income.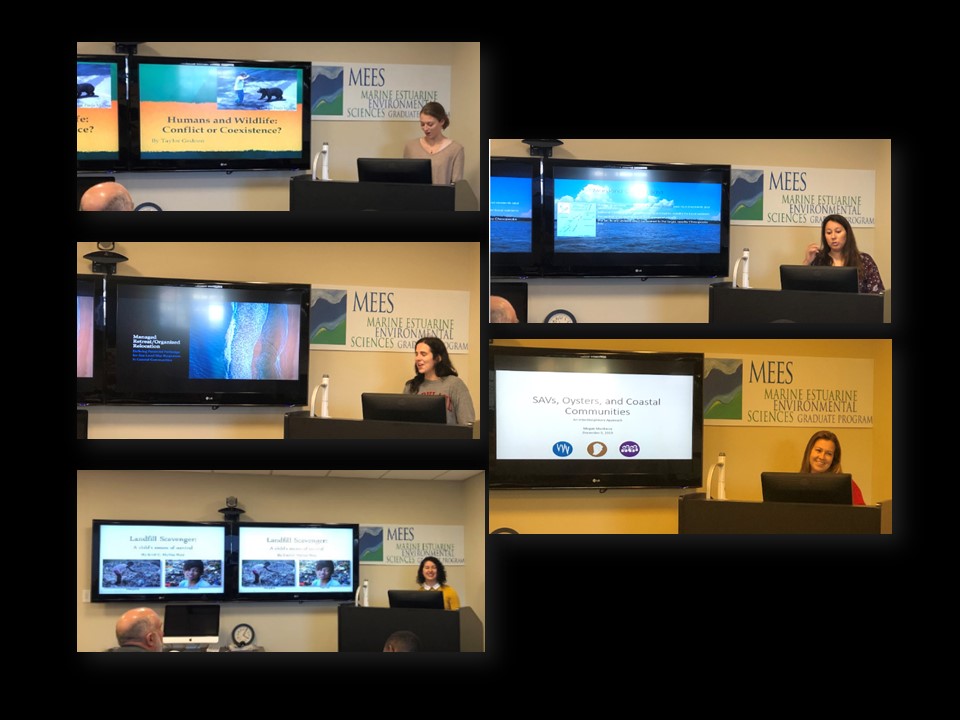 After a brief break, we continued with the second half of the presentations. Amanda began with a fun T-rex metaphor on how to adequately improve stormwater conditions by integrating social and natural science. Isabel brought a transdisciplinary approach to the table by using ecological anthropology and environmental economics to reduce the stigma against bats. Faith will use historical approaches and African-American studies to evaluate the ethical distribution of environmental justice. Allison will use science and technology to look into the biodiversity around Kayapó tribes. Last, but not least, Hamani will use environmental justice, sustainability, and science and technology studies to increase local knowledge in order to increase drought resilience in East Africa.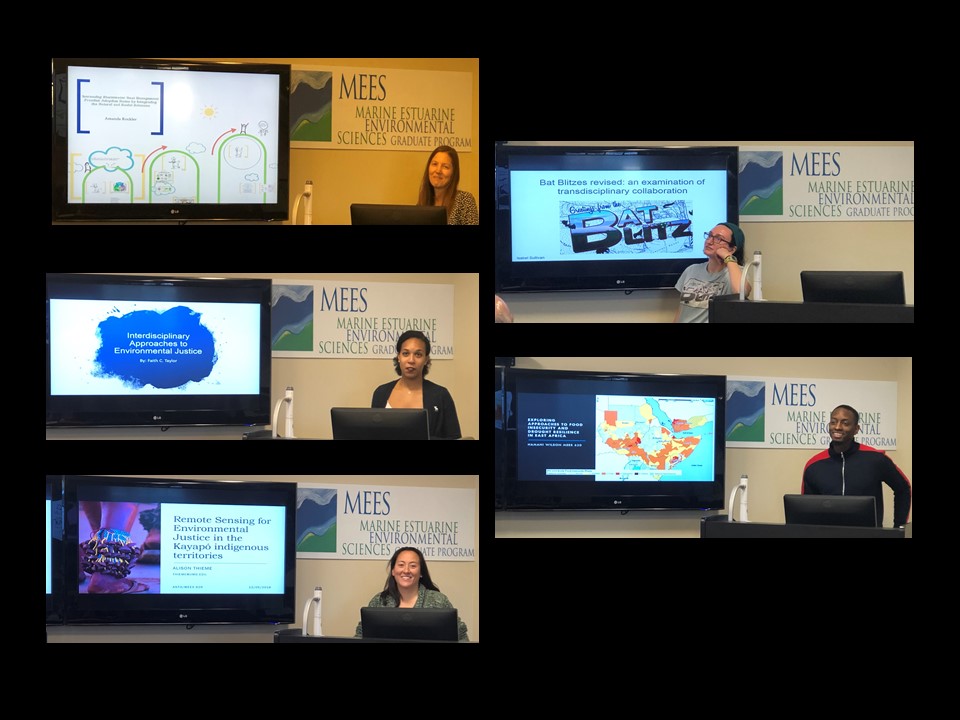 After presentations, we popped a few corks and had some champagne in celebration of the end of the semester, and in honor of Michael Paolisso's last class and first step into retirement. After a brief toast, we surprised him with a song called "School's Out For Michael," sang to the 1972 tune, "School's Out," by Alice Cooper.2
School's Out for Michael
Lyric adaptation by Bill Dennison
Performed by the 2019 Environment and Society class
Well we got no choice
Michael's taking off
So we're making noise
'Cause we're goin' miss this Prof.
Well he's a great teacher but he won't brag
Having Michael leave us that's a drag
School's out for Michael
School's out forever
School will not be the same
No more pencils, no more books
No more student's dirty looks
Well he's done with classes
And he's done with gradin'
And he's taught so much
We can't even think of a word that rhymes
School's out for Michael
School's out forever
School will not be the same
No more pencils, no more books
No more student's dirty looks
Out for winter
Out for spring
He might not come back at all
School's out for Michael
School's out forever
School's out for Michael
School's out completely
Kudos to Bill for a fun and creative send-off for Michael. Although this was the last class, school will not be entirely out for Michael Paolisso as he is optimistic that he will return to guest lecture in upcoming semesters, as well as continue to mentor and advise Environment and Society students.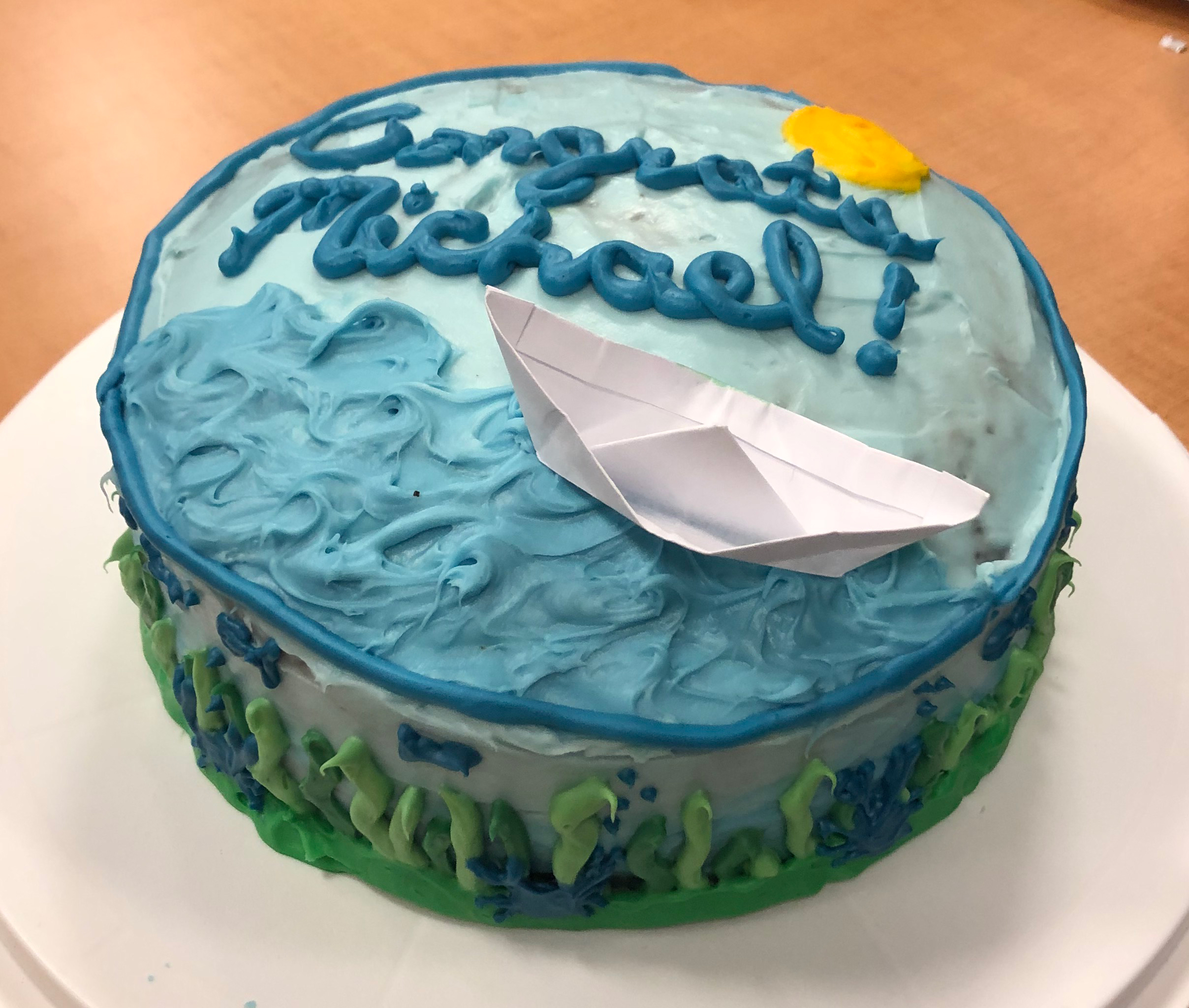 Without a doubt, this was a memorable class; it required large amounts of time-consuming work that I hadn't encountered in a while. Although it was challenging, it was a breath of fresh air to meet rising professionals with similar interests and a shared goal of coupling human and natural systems. I had the opportunity to learn about topics like Environmental Justice and Transdisciplinary approaches that I otherwise wouldn't have encountered in my core studies, to learn how to write successful blog entries, and to improve my essay writing. With farewells to everyone, particularly Michael, school's out!
References:
1. MEES 620 Environment and Society Syllabus. University of Maryland College Park. Fall 2019 Semester.
2. Cooper, A. et al. (1972) School's Out (Song).