About UMCES
Beginning with Dr. Reginald Truitt's dockside laboratory in 1925, the University of Maryland Center for Environmental Science (UMCES) has traveled the road to discovery. For 90 years, UMCES students, researchers and faculty have gathered information and developed theories that have helped improve society's scientific understanding of the environment. By sharing this newfound knowledge on important issues such as fisheries management, ecosystem health and climate change, UMCES has had an undeniable impact on the way we think about the natural world.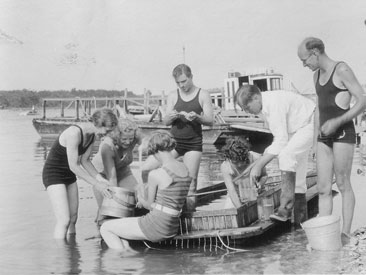 UMCES scientists trace their roots to oyster research undertaken at the Chesapeake Biological Laboaratory in 1925 by Dr. Reginal Truitt
As Maryland's premier research institution aimed at advancing scientific knowledge of the environment, the University of Maryland Center for Environmental Science is one of twelve institutions within the University System of Maryland.
UMCES has a unique statutory mandate to conduct a comprehensive scientific program to develop and apply predictive ecology for the improvement and preservation of Maryland's physical environment. In carrying out this mission, UMCES also has a distinct responsibility to prepare future scientists and environmental stewards to meet the growing environmental challenges facing society today and research needs of tomorrow.
Comprised of the Appalachian Laboratory in the mountains of western Maryland, the Chesapeake Biological Laboratory at the mouth of the Patuxent River, the Horn Point Laboratory on the Eastern Shore, the Institute of Marine and Environmental Technology in Baltimore, and the Maryland Sea Grant College located in College Park, UMCES excels in bringing together interdisciplinary scientific studies in its pursuit of a greater understanding about ecosystems and their natural processes. Each laboratory is strategically focused on specific areas of research, education and scientific application, making the Center among the only institutions in the world to examine a large ecosystem – the Chesapeake Bay and its watershed – in its entirety.
It is extensively involved in education on many levels as it strives for excellence in environmental science programs. Providing professional research opportunities under the direct supervision of leading environmental scientists, the University of Maryland Center for Environmental Science supports close to one hundred exemplary graduate students annually through a joint Marine Estuarine Environmental Sciences degree program with the University of Maryland College Park. A leader in providing the research necessary for sound environmental management and efficient solutions to natural resource challenges, the Center's faculty and graduates are sought out around the world for their proficient research and conscientious advice.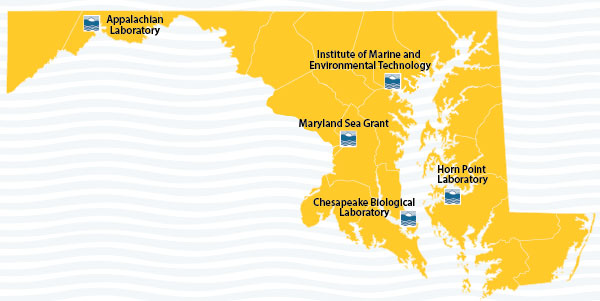 Related Links: