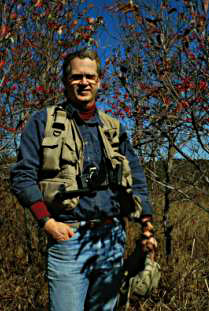 Dr. Richard A. Johnson, a lifelong naturalist, was born in Cumberland, Maryland in 1937. He was a graduate of Allegany High School, Princeton University, and the Johns Hopkins School of Medicine. He served seven years in the U.S. Army Medical Corps. He and his wife Barbara had three children: two daughters and one son, Marta, Wendy, and Chris.
Dr. Johnson's three passions - family, medicine, and birding - led him back to his hometown where he established a successful orthopedic surgery practice and continued his exploration of the Appalachian Wilderness. During the twenty years he practiced medicine in western Maryland, he came to be respected and loved not only by his patients, but also by the many outdoor and civic groups who frequented his slideshow presentations and guided hikes. His photography chronicled the beauty of the Allegany landscape and its diverse flora and fauna. He died of cancer on December 22, 1990, at the age of 53.
Dr. Johnson joined the Appalachian Laboratory Board of Visitors in 1988 and served as a member of the Executive Committee until his death. As a Board member, he directed the Foreign Student Support Program for international students participating in the graduate education programs of the University of Maryland Center for Environmental Science.