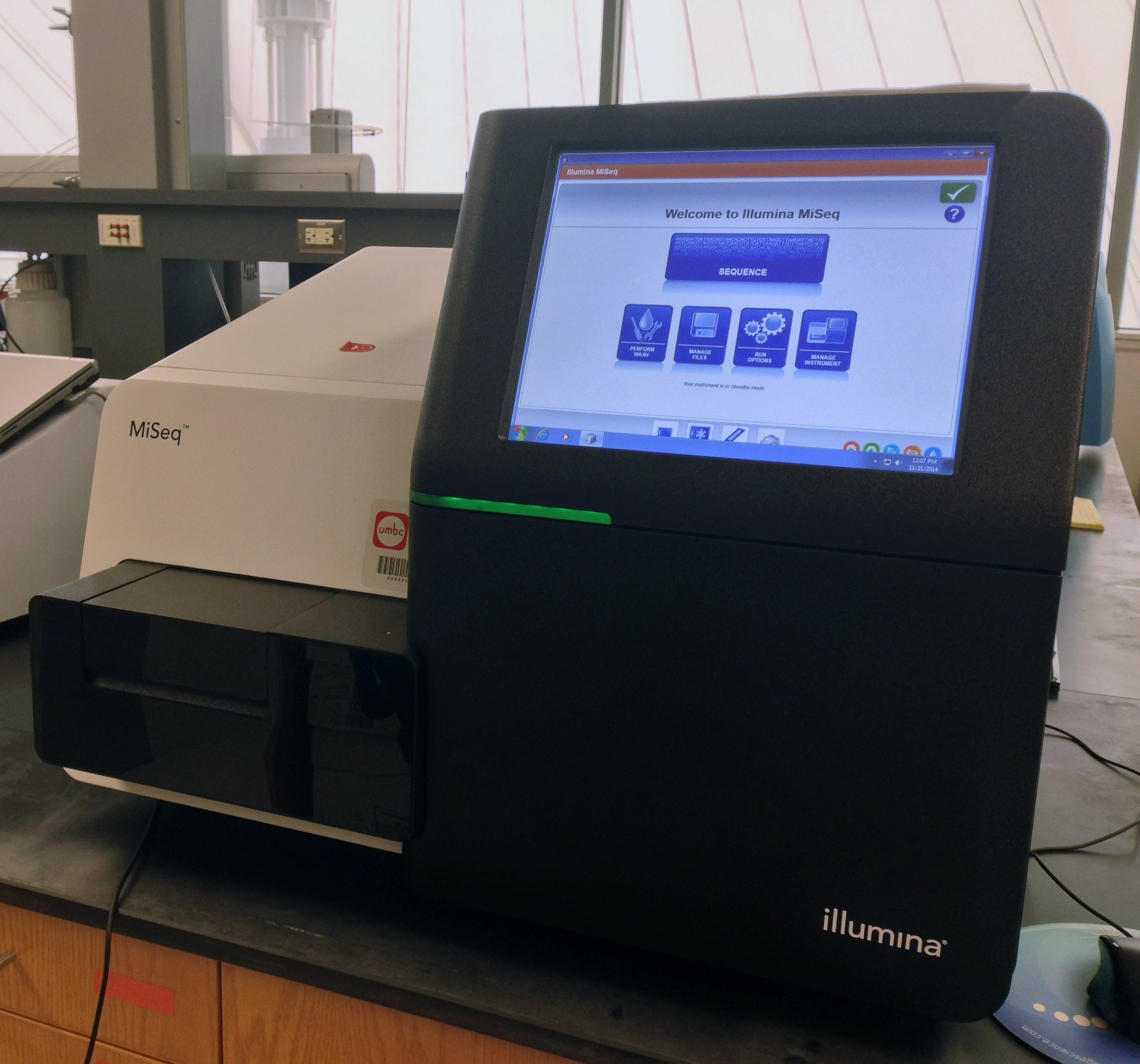 In the BAS Lab, we support high throughput sequencing using our Illumina MiSeq instrument. We provide MiSeq applications like small whole genome sequencing, metagenomics workflow and amplicon sequencing with up to 500 bp amplicons.
Multiple samples can be indexed (barcoded) and be pooled in order to make system's maximum output. The core will make sure that they receive minimum number of samples before they start preparing libraries in order to combine and run in a single run to get the maximum output.
If you have any questions in any other MiSeq application service or any custom project service to be performed in our facility, please contact Sabeena Nazar.
Submission information
Sample Submission
Submit 15 ul of the stock genomic DNA for whole genome sequencing. The core will check the DNA concentration of the provided sample using Qubit 2.0 Fluorometer and dilute accordingly for library preparation.
Submit 15 ul of genomic DNA with a concentration of 5 ng/ul for metagenomics/amplicon sequencing.
Complete and submit a sample submission form along with the samples.
Sample Preparation
Our core prepares the libraries from the provided samples using Nextera XT DNA Library Prep Kit/Nextera DNA Flex Library Prep Kit/TruSeq DNA Nano Kit from Illumina for whole genome sequencing, Nextera XT DNA Library Prep Kit for metagenomics and amplicon sequencing.
The whole genome sequencing libraries will run in 2 X 250 cycle, metagenomics (both 16S and 18S) libraries will run in 2 X 300 cycle and amplicon libraries cycle run will be determined based on the size of amplicons.
Researchers may prepare their own libraries and send us to our facility for just running in MiSeq. Each library has to be in 4 nM concentration and has to send in frozen conditions. Our core will pool the libraries and perform the run according to the customer's need. We prefer to run libraries run from Illumina kits. If the libraries prepared from third party vendors or any custom run, please let us know.
Pricing
| Service | University & State Agencies' Rates | Incubator/Tenant Rates | Commercial Rates | Notes |
| --- | --- | --- | --- | --- |
| MiSeq 16S Metagenomics/Ampicon | $100 | $150 | Please request a quote | 95 and above samples $85 |
| MiSeq Whole Genome Sequencing | $600 | $900 | Please request a quote | 5 samples per run |
| MiSeq 300 Cycle Run Only | $2,000 | $3,000 | Please request a quote |   |
| MiSeq 500 Cycle Run Only | $2,300 | $3,450 | Please request a quote |   |
| MiSeq 600 Cycle Run Only | $2,500 | $3,750 | Please request a quote |   |
| MiSeq Small RNA | Please request a quote | Please request a quote | Please request a quote |   |
---