Despite the end of commercial whaling, many whale populations have been slow to increase in number, and one of the reasons for this is continued human-induced mortality. Human impacts including collisions with vessels, entanglement in fishing gear and exposure to underwater noise are major sources of disturbance, injury and mortality to large whales.
In 2007, there were four blue whales (Balaenoptera musculus) killed by ship strikes off California, the highest number recorded for any year (NOAA/NMFS/SWR Stranding Database, 2012). In 2004-2008 there were 18 observed entanglements of humpback whales (Megaptera novaeangliae), in fishing gear off California, Oregon and Washington1.
There is an urgent need for better information on the occurrence and movements of large whale species to help inform policy-making for protection of these species. To help meet this need, the WhaleWatch team is developing habitat-based models and near real-time predictions of the probability of whale occurrence to help inform how human activities can be limited to times and areas of lower risk to whales.   
We are analyzing the satellite-derived tracks of blue, fin (Balaenoptera physalus), humpback, and gray whales (Eschrichtius robustus) in the California Current System collected by Bruce Mate (Oregon State University). These locations have been integrated with remotely sensed environmental data and used to develop habitat-based models of the probability of whale occurrence, density, and behavior by Helen Bailey (University of Maryland Center for Environmental Science), and Daniel Palacios, Elliott Hazen, Steven Bograd and Karin Forney (NOAA/NMFS Southwest Fisheries Science Center).
These products are allowing large whale hotspots to be identified, and provide a near real-time tool for determining occurrence and risk to whales using a similar approach to the TurtleWatch tool by Evan Howell (NOAA/NMFS Pacific Islands Fisheries Science Center). Managers and marine users will be able to use our tool to identify hotspots, and also the time or location at which there would be the lowest probability of w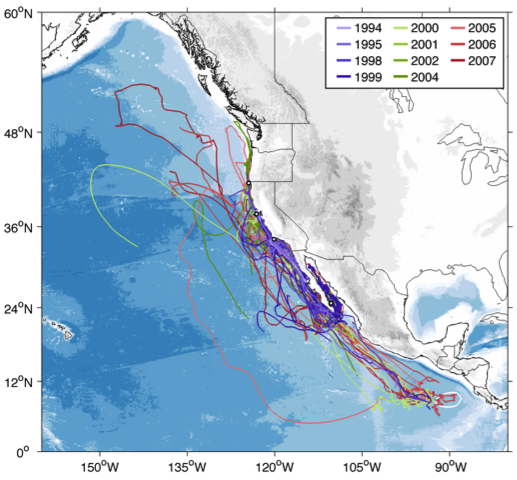 hale occurrence, and ultimately the lowest risk to whales. Above: Blue whale off California being tagged by Bruce Mate's team at Oregon State University
Our partner in this project is the NOAA/NMFS Southwest Regional Office (SWR). A priority issue for the Protected Resources Division of SWR is to reduce the number of ship strikes and entanglements in fishing gear for large whales.
The whale prediction maps and tool will be transitioned to the NOAA/NMFS SWR so that it can be used for marine spatial planning, informing management decisions, and the development of policies or regulations for protecting high-use areas.
It will also be made available on the NOAA website so that other marine users and stakeholders can use it to assess and reduce the risk of impact to Federally protected whale species. Right: Map of blue whale tracks color-coded by year they were satellite tagged. Image by Daniel Palacios.
Team members
Principal Investigator
Helen Bailey
Project co-ordinator
Movement and habitat modeling
University of Maryland Center for Environmental Science
hbailey@umces.edu                        
Co-Investigators
Bruce Mate
Satellite telemetry and cetacean advisor
Oregon State University
bruce.mate@oregonstate.edu
Steven Bograd
Oceanography advisor
NOAA/NMFS/SWFSC
steven.bograd@noaa.gov
Daniel Palacios
Integrating remotely sensed environmental data and habitat modeling
NOAA/NMFS/SWFSC
daniel.palacios@noaa.gov
Elliott Hazen
Habitat modeling
NOAA/NMFS/SWFSC
Elliott.Hazen@noaa.gov
Karin Forney
Habitat modeling advisor
NOAA/NMFS/SWFSC
Karin.forney@noaa.gov
Evan Howell
Decision support tool advisor
NOAA/NMFS/PIFSC
evan.howell@noaa.gov
Partner
Monica DeAngelis
Marine Mammal Biologist
NOAA/NMFS/SWR
Links
Media

WhaleWatch: New project uses satellite tracking to help reduce number of whales entangled in fishing gear
Funding Support for WhaleWatch project
Funding was provided under the interagency NASA, USGS, National Park Service, US Fish and Wildlife Service, Smithsonian Institution Climate and Biological Response program, Grant Number NNX11AP71G.
NASA Applied Sciences Program
Funding Support for Tagging
Office of Naval Research
Marine Mammal Institute, OSU
Sloan, Packard and Moore Foundations to the Tagging of Pacific Predators Program
1 Carretta, J.V., K.A. Forney, E. Oleson, K. Martien, M.M. Muto, M.S. Lowry, J. Barlow, J. Baker, B. Hanson, D. Lynch, L. Carswell, R.L. Brownell, J. Robbins, D.K. Mattila, K. Ralls & M.C. Hill. 2011. U.S. Pacific marine mammal stock assessments: 2010. U.S. Department of Commerce, NOAA Technical Memorandum NOAA-TM-NMFS-SWFSC-476. 352 pp.