The Ruth Patrick Award is given to scientists who have made outstanding contributions towards solving environmental problems. The Association for the Sciences of Limnology and Oceanography (ASLO) has awarded Dr. Walter R. Boynton of the University of Maryland's Center for Environmental Science's Chesapeake Biological Laboratory this distinguished honor in recognition of his research to solve environmental problems and shape policy with long-lasting impacts on estuarine ecosystems. The award will be presented at the Aquatic Sciences Meeting (ASM) in Honolulu, Hawaii, February 26- March, 2017.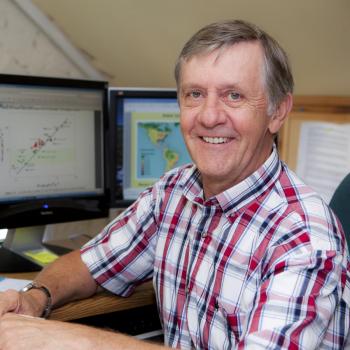 Boynton's unique approach to connecting research at multiple temporal and spatial scales has provided the foundational knowledge and data required for effective management of coastal ecosystems. Boynton's ability to conduct important, timely research along with his ability to effectively communicate research findings to non-scientists underlies his recognition by peers as one of the "few scientists who can serve as such able and informed gatekeepers between the science and political spheres."
Since the early stages of his career, starting with his work on striped bass recruitment and continuing with his research on biogeochemistry and nutrient budgets, Boynton has included stewardship in his professional activities. His determination to maintain dialogue and long-standing relationships with policymakers and stakeholders has led to science-informed management of the Chesapeake Bay and support for long-term monitoring throughout the United States.
A notable example of these efforts is Boynton's seminal work in the 1980s on the role of both nitrogen and phosphorous in influencing phytoplankton productivity and his push for dual nutrient management strategies to control eutrophication in the Chesapeake Bay at a time when single nutrient strategies were the paradigm.
Boynton's "down to Earth" personality, ability to translate science to a broader audience, and continued commitment to stewardship has made him an important and trusted scientific advisor to state and regional officials. Importantly, this led to Boynton's influence in key management decisions and programs such as a moratorium in striped bass fishing, clean-up of the Patuxent River, and the development of the Chesapeake Bay Monitoring Program and the Chesapeake Bay Agreement. Boynton's efforts and involvement extend well beyond the Chesapeake Bay, however.
He has been a member of the EPA's Estuarine Nutrient Criteria Workshop and Hypoxia Panel, participated in the San Francisco Bay Estuary Program planning workshop, and acted as a consultant for the U.S. Department of Justice concerning the Deepwater Horizon spill in the Gulf of Mexico. Furthermore, during his time as President of the Coastal and Estuarine Research Foundation, Boynton was heavily involved in getting other society members to inform the U.S. Congress on coastal issues.
Walter Boynton's career-long commitment to fundamental research in coastal ecosystems and translating that research to policymakers and stakeholders has resulted in effective, science-based management of the Chesapeake Bay and the surrounding watershed. His efforts have resulted in the clean-up of some of the United States' most polluted watersheds and a growing appreciation for the importance of long-term monitoring in ecosystem management.
"Few scientists have contributed as much to the understanding and stewardship of coastal areas as Walter Boynton. His long history and continued efforts to engage in the management of coastal ecosystems makes him an exceptional recipient of the Ruth Patrick Award," said ASLO President Linda Duguay.