BALTIMORE, MD (April 17, 2014)--Algae from the Chesapeake Bay could be key to reducing greenhouse gas emissions from power plants. The University of Maryland Center for Environmental Science's Institute of Marine and EnvironmentalTechnology (IMET) has been named a winner in the first round of the Change and Emissions Management Corporation (CCEMC)'s $35 million international Grand Challenge: Innovative Carbon Uses for its work in using algae to capture carbon dioxide.
The group, led by UMCES Associate Professor Dr. Feng Chen, was selected from 344 submissions from 37 countries on six continents. He was among the 24 finalists who attended the conference in Edmonton, Canada.
"It is exciting to be here with other CCEMC awardee and learn the emerging technologies that can be used for removing greenhouse gas." said Chen.  The announcement was made at Zero 2014: A Conference for a Low Carbon Future in Alberta, Canada, on April 15, 2014.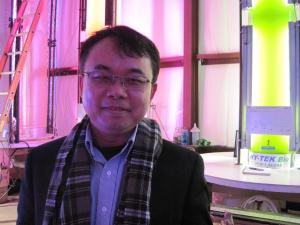 "While efforts to mitigate greenhouse gas emissions around the world are making progress, we still need to pursue other strategies that can reduce emissions as global demand for fossil fuels grows," said CCEMC Chair Eric Newell. "We applaud the leaders behind these projects who are taking action through developing new carbon utilization technologies."
Scientists Drs. Feng Chen, Russell Hill and Yantoa Li from the Institute of Marine and EnvironmentalTechnology, located at Baltimore's Inner Harbor, have been working with Maryland business start-up HY-TEK Bio, LLC, to develop a microalgae-based system to reduce carbon dioxide emissions on an industrial scale while producing valuable byproducts such as biofuel. The technology has been used to consume greenhouse gas being released from the Back River Waste Water Treatment Plant's powerplant flue. The algal bioreactor is the first patent-pending technology of its kind to reduce greenhouse emissions on an industrial scale with the added economic benefit of being able to harvest the algae for sale as pharmaceuticals, animal feed, and biofuels.
"Climate change is one of the biggest challenges facing our society today and IMET is thrilled to be contributing to solutions to carbon dioxide emissions through our microalgal research program," said Russell Hill, Director of the Institute of Marine and Environmental Technology.
The CCEMC launched the multi-year competition last year, with a goal to significantly reduce greenhouse gas emissions by fostering the development of technologies that create new carbon-based, value-added products and markets.
The projects selected are from Canada (7), the United States (14) and the UK (3). Each winner receives $500,000 and access to a support team who will help them to develop their idea.
The CCEMC Grand Challenge projects are diverse and include, as examples, a fuel 
cell, fertilizers, concrete, a product to treat wastewater, and one project that will create graphene – a "miracle material" that's stronger than a diamond and conducts electricity a thousand times better than copper. They also include a variety of chemicals that are used to produce consumer goods familiar to every Canadian – like ski boots, fishing rods, and fleece jackets.
Round two of the Grand Challenge launches in September 2015 and after a second international intake, five winners will each receive $3 million. From that group, a final winner of the competition will be awarded a $10 million grant in 2018 to establish a business that annually reduces greenhouse gas by one net megaton in Alberta.
Located in Baltimore's Inner Harbor, the Institute of Marine and Environmental Technology is a strategic alliance involving scientists at the University of Maryland Center for Environmental Science, the University of Maryland Baltimore and the University of Maryland Baltimore County. Scientists are engaged in cutting-edge research in microbiology, molecular genetic analysis and biotechnology, using marine life to develop new drug therapies, alternative energy and other innovations to improve public health and economic opportunities. IMET also contributes to sustainable marine aquaculture and fisheries in the Chesapeake Bay and marine ecosystems.
Photo: UMCES researcher Feng Chen discovered the strain of algae that most efficiently absorbs carbon dioxide. He is seen here with HY-TEK Bio's algal bioreactor.