The Institute of Marine & Environmental Technology (IMET) and the University System of Maryland present an evening with legendary ocean environmentalist Jean-Michel Cousteau on Wednesday, October 9, from 7-8:30 p.m. His multimedia lecture, "The Great Ocean Adventure," will address the magnitude of challenges facing our oceans and fisheries and touch upon IMET's work in developing one of the most innovative and environmentally sustainable marine aquaculture technologies today.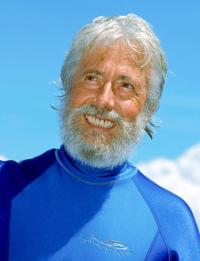 "We are delighted to host Jean-Michel Cousteau as a 'voice for the ocean,'" said Russell Hill, Director of the Institute of Marine and Environmental Technology. "So much of his pioneering work resonates with the cutting-edge research being done here in our Institute at Baltimore's Inner Harbor every day." 
The Institute of Marine & Environmental Technology, home to one of the largest groups of scientists in the world addressing marine and environmental research through molecular approaches, is located at Baltimore's Inner Harbor at 701 E. Pratt Street. Admission includes lecture, Q&A session, and reception. Seats are limited.
Since first being "thrown overboard" by his father at the age of seven with newly invented SCUBA gear on his back, Jean-Michel Cousteau has been exploring the ocean realm. The son of ocean explorer Jacques Cousteau, he has investigated the world's oceans aboard Calypso and Alcyone for much of his life. He has produced over 80 films, received the Emmy, the Peabody Award, the 7 d'Or, and the Cable Ace Award. In 1989, he became a syndicated columnist for the Los Angeles Times where his articles appeared in over sixty newspapers worldwide.
Jean-Michel Cousteau--living his legacy--founded Ocean Futures Society in 1999 to carry on this pioneering work. Reaching millions of people globally through Ocean Futures Society, he continues to produce environmentally oriented adventure programs and television specials, public service announcements, multi-media programs for schools, web-based marine content, books, articles for magazines, newspaper columns, and public lectures.
The Ocean Futures Society, a non-profit marine conservation and education organization, serves as a "Voice for the Ocean" by communicating in all media the critical bond between people and the sea and the importance of wise environmental policy. As Ocean Future's spokesman, Jean-Michel Cousteau serves as an impassioned diplomat for the environment, reaching out to the public through a variety of media.
Maryland Public Television is the media sponsor for this program.
The Institute of Marine & Environmental Technology is home to one of the largest groups of scientists in the world addressing marine and environmental research through molecular approaches. Focusing on the sustainable use of natural resources and enhancement of human health, IMET is a joint University System of Maryland research institute capitalizing on the strengths of the University of Maryland Center for Environmental Science (UMCES), the University of Maryland, Baltimore County (UMBC) and the University of Maryland, Baltimore (UMB) in a state-of-the-art research facility located at Baltimore's Inner Harbor. www.imet.usmd.edu
Photo: Jean-Michel Cousteau by Tom Ordway 2005