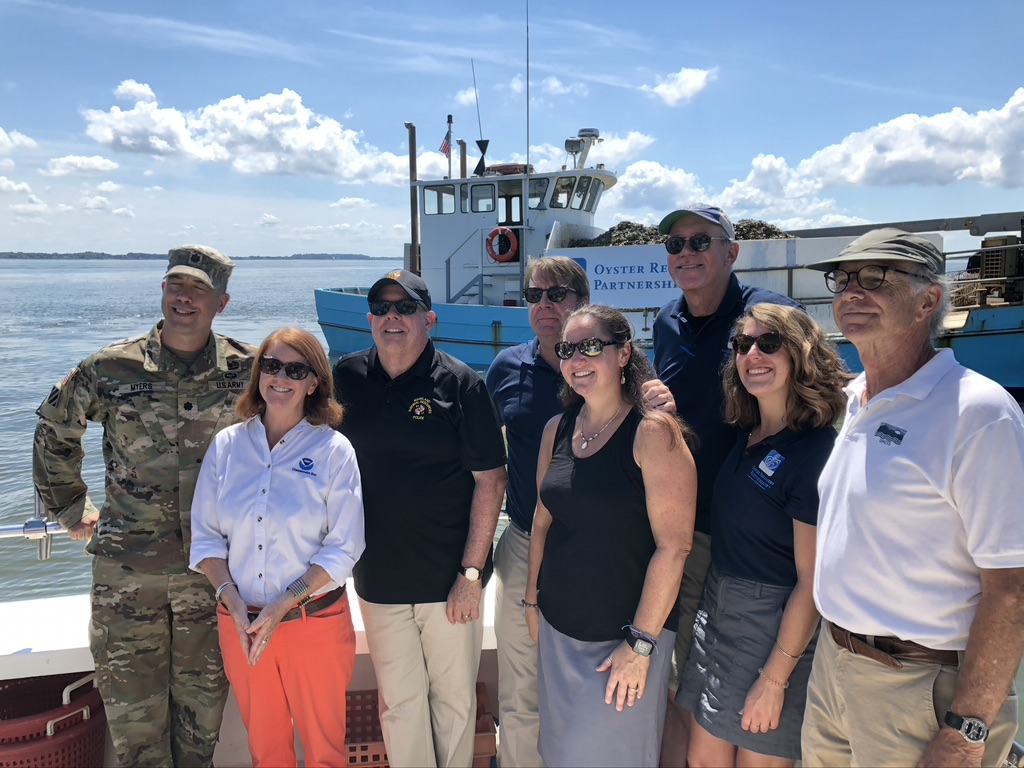 Maryland Governor Larry Hogan led a ceremonial oyster planting in August to mark the significant milestone of 10 billion oysters planted in the Chesapeake Bay, all of them born and raised at the University of Maryland Center for Environmental Science's Horn Point Oyster Hatchery. The event, hosted by the Oyster Recovery Partnership, celebrated the partners who have been part of the effort to restore the health of Chesapeake Bay. Horn Point Laboratory Director Mike Roman and Hatchery Manager Stephanie Alexander, who have led the UMCES' partnership, joined the partners in the celebration.
Maryland has embraced large-scale oyster plantings as a key component of its Chesapeake Bay restoration strategy, deploying hundreds of millions of juvenile oysters on both sanctuary reefs and public oyster reefs annually.  The oyster hatchery at UMCES' Horn Point Laboratory in Cambridge, Maryland, has played a key role in this restoration endeavor, growing the oyster larvae and setting the larvae on shell to become baby oysters or "spat" that are planted in the Bay.
In the summer of 1993, the State of Maryland brought together a panel of experts made up of elected officials, organizations, and institutions to address the troubled oyster population in Chesapeake Bay. Diseases, harvesting, and poor water quality were devastating the Chesapeake Bay oyster, a key species that dated back centuries. They released an Action Plan for Oyster Recovery that of laid the foundation for the oyster restoration program now underway and the founding of the Oyster Recovery Partnership. Restoration partners include the University of Maryland Center for Environmental Science, the Maryland Department of Natural Resources, the National Oceanic and Atmospheric Administration, and U.S. Army Corps of Engineers.
Oysters are beneficial because they filter excess nutrients from the Bay's waters, provide shoreline stabilization and valuable habitat for other marine species, and boost the state's commercial seafood industry through annual harvests and oyster aquaculture.
The Horn Point Hatchery staff, led by Hatchery Manager Stephanie Alexander, work every year with the goal to increase the number of spat-on-shell it can produce to contribute to the bay restoration effort, totaling millions each year. The Oyster Recovery Partnership collects and processes the shells that the oyster larvae settle on in the hatchery and deploys the oysters into the Bay and its tributaries from the pier at Horn Point.
UMCES has been dedicated to protecting the species and helping it thrive in the Bay. UMCES scientists are experts in every aspect of oysters from their biology to their role in our Bay's ecosystem. The team at the Broddus and Margaret Ann Jones Oyster Culture Facility uses constantly evolving techniques to produce a variety of oyster larvae for use in research, restoration, and educational projects.
Learn more about oysters at UMCES HERE.
Photos courtesy of ORP.