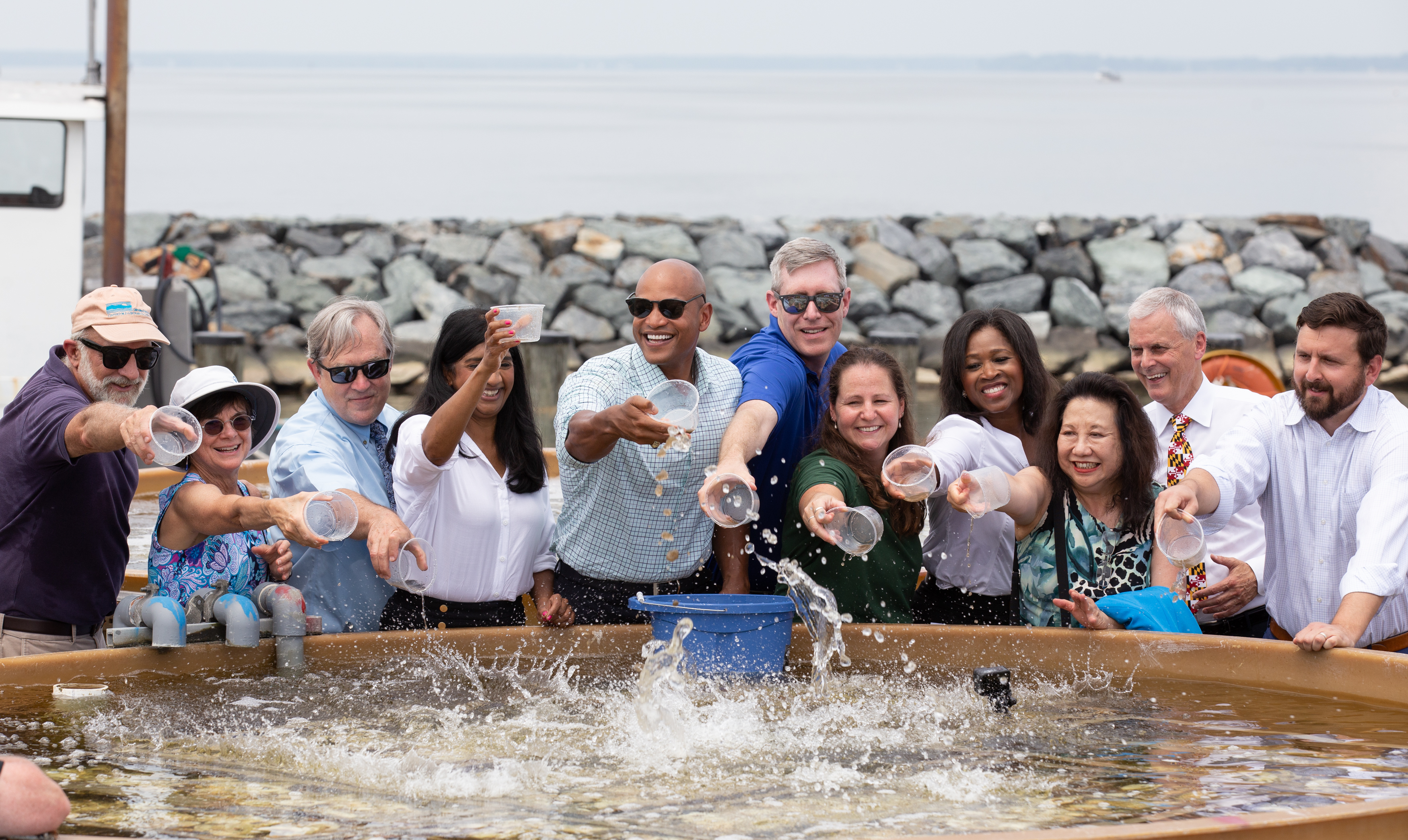 During an Eastern Shore "Bay Day" tour, Governor Wes Moore visited the University of Maryland Center for Environmental Science's oyster hatchery at its Horn Point Laboratory in Cambridge, Md., and announced a major policy shift in how Maryland will deploy state resources to improve water quality in the Chesapeake Bay and other waterways to restore the Chesapeake and Atlantic Coastal Bays.
"Our administration is focused on working in new and collaborative ways to reduce the pollution reaching our bays and providing our local communities and farmers with the opportunities and resources they need to succeed," said Governor Moore. "Now is the time to embrace the lessons we've learned in the Chesapeake and Coastal Bays over the past 40 years and evolve our strategy to reflect that."
Governor Moore spoke about his administration's commitment to oyster restoration and the health of the Chesapeake Bay and signed an executive order to establish the Oyster and Shell Substrate Task Force. The diverse task force was created to develop a proactive plan to keep and purchase oyster shells to ensure the state has enough hard surface to increase oyster abundance in the Bay.
UMCES President Peter Goodwin, Horn Point Laboratory Director Mike Sieracki, Vice President for Science Application Bill Dennison, and Oyster Hatchery Manager Stephanie Alexander led a group that included Lieutenant Governor Aruna Miller, cabinet members, and representatives of state organizations on the task force as they poured oyster larvae into a large setting tank that will make their way to oyster restoration areas in the Chesapeake Bay. Demonstrations from Horn Point Laboratory scientists and students, including Assistant Professor Matt Gray and graduate student Michael Kalinowski highlighted research on the value of oysters for coastal resilience and promotion of the health of aquaculture sites.
As one of the largest oyster hatcheries on the East Coast, the Horn Point Oyster Hatchery produces a variety of oyster larvae for use in oyster research, oyster restoration, and educational projects. Over the past decade, spawning oysters have resulted in the deployment of over one billion oyster spat to Chesapeake Bay water in the hopes of slowing oyster decline and restoring the health of the Bay. Scientists at UMCES' Horn Point Laboratory have advanced society's understanding of the world's estuarine and ocean ecosystems through interdisciplinary programs in oceanography, water quality, restoration of seagrasses, marshes and shellfish.
 "The bay belongs to all of us, and it's on all of us to protect it," said Lieutenant Governor Miller. "Today's announcement solidifies our administration's plan to ensure Maryland does its part to make our coastal bays a thriving ecosystem for future generations. Whether it's farmers, homeowners, boaters, or business owners, our approach invites every Marylander to be a part of the solution to keeping our waterways clean."