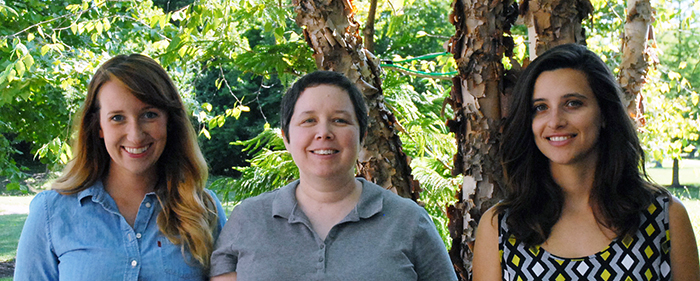 Sea Grant has just announced the highly competitive 2019
John A. Knauss Marine Policy Fellowship Finalists
, and UMCES students captured 4 of the coveted fellowships. Horn Point Laboratory graduate students Melanie Jackson, Maureen Brooks, and Emily Russ will be serving a fellowship year working in either the Executive or Legislative branches of government.   
Students are chosen through a selective process that involves review at the state and national levels, and we are proud to have the largest class ever of HPL students working hands on to transfer science into policy.  The impact of their policy work may take place at the Legislative (e.g. Senate Committee on Environment and Public Works, Senate Commerce Committee, House Committee on Natural Resources) or Executive (e.g. NOAA, Department of the Interior, National Science Foundation, U.S. Navy) levels.
Read more to learn what Maureen, Melanie, and Emily want to do in their Fellowship year:
Maureen Brooks
 

Through my studies at HPL I've been most excited when my research has the potential to help solve real-world problems. As a Knauss Fellow I'm looking forward to helping find promising new research, see its applications, and translate it into policies that balance stakeholder needs with sustainable oceans.  

Melanie Jackson
 

Not only has my time at Horn Point allowed me to conduct collaborative research with computer modelers and physical oceanographers, but I've also had the opportunity to interact with a diverse group of stakeholders ranging from local watermen to state and federal government officials.  My outreach and research endeavors at Horn Point have prepared me for a successful career in environmental management and have taught me the importance of incorporating stakeholder values into policy. I am eager to apply my leadership and communication skills to broad topics within science policy, such as habitat restoration and sustainable aquaculture.

Emily Russ
 

Through my coursework and research at HPL, I have developed an excellent foundation on environmental issues impacting our estuaries and coasts, and solutions to promote sustainability. During my time at HPL, I discovered a passion for science outreach and extension education, and am excited to work with the federal government during a Knauss Fellowship. Much of my PhD research has focused on coastal resilience, and I believe the Knauss Fellowship will be an invaluable opportunity to learn how to best integrate science, policy, and society in order to promote resilience and sustainability at a national level.