Scientists understand more about dolphins in Chesapeake Bay thanks to reports from citizen scientists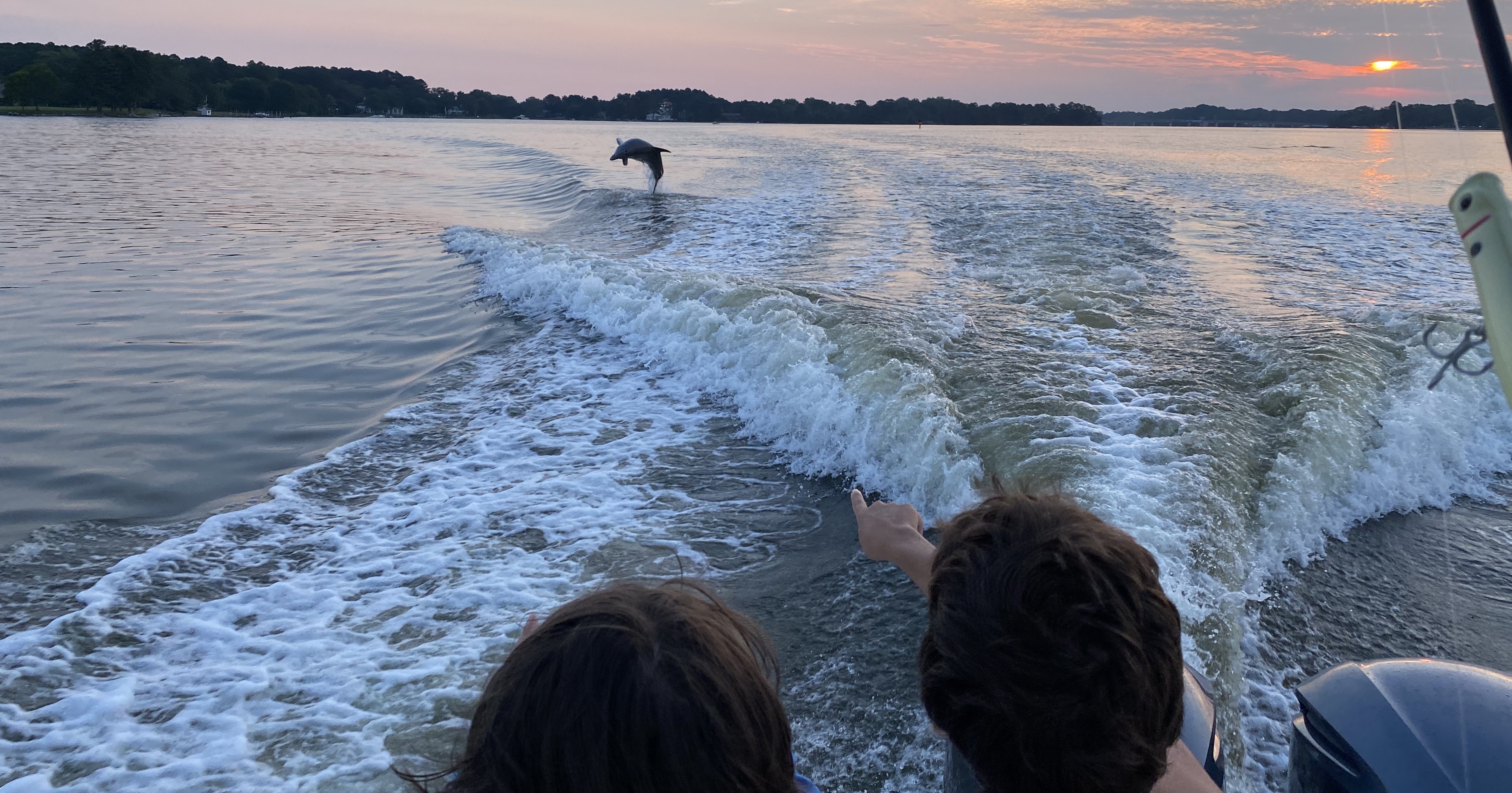 Many Chesapeake Bay visitors have had the pleasure of spotting dolphins leaping out of the waters while enjoying activities the Bay has to offer. Researchers at the University of Maryland Center for Environmental Science (UMCES) created a mobile- and web-based application that allowed these Chesapeake Bay visitors and residents to report their dolphin sightings.
A recent study released by UMCES' Chesapeake Biological Laboratory used sighting reports from our citizen-science Chesapeake DolphinWatch  app and acoustic data to track dolphins in the Chesapeake Bay in an effort to understand their seasonal movements. Understanding the movement of this charismatic, protected marine mammal can help aid in conservation and management efforts for the species in the Bay, a body of water with high levels of marine traffic, planned construction, and military activity.
"I started the Chesapeake DolphinWatch Project because we had received anecdotal sightings of dolphins in the Bay. We realized instead of just being occasional visitors to the Bay, they were actually frequently in the Bay, and we wanted to find out when the dolphins are coming here – where, when, how and why are they coming into the Bay?" said Helen Bailey, marine biologist and research professor who began the DolphinWatch program at UMCES. 
She created the online tracker so people could easily report their sightings and view other people's sightings so they could find out where dolphins have been seen. 
From more than three years of verified sightings from the Chesapeake DolphinWatch app, 1,788 individual bottlenose dolphin sighting reports have been officially confirmed by UMCES scientists (typically from corresponding photographs and descriptions). The app allows community-based scientists to report sightings of dolphins including the time, date, GPS location, number of animals observed, and pictures and video of the animals throughout the Bay.
Bottlenose dolphins are migratory marine mammals that live in both open-ocean and coastal habitats, but had previously not been considered to be regular visitors to the Chesapeake Bay. While dolphins are highly studied, little was known about their movement in the U.S.'s largest estuary.  
"What we really needed was as many eyes on the Bay as possible so we can find out where the dolphins are going and we thought that engaging members of the public could really play an important role because most people know when they spot a dolphin," said Bailey
Data received from sightings was coupled with acoustic detections of dolphin echolocation clicks from the middle region of the Chesapeake Bay, allowing scientists to confirm the peak in bottlenose dolphin presence during the summer.
"We found that the dolphins occurred all over the Chesapeake Bay, even past Annapolis," said graduate student Lauren Rodriguez. 
Researchers are also using dolphin whistles, which they use to communicate socially. "Certain types of these whistles, called signature whistles, are like dolphin names. We can use these whistles, which they repeat often, to count the number of dolphins in these areas," said  Amber Fandel who is analyzing this information as part of her graduate research project. 
UMCES scientists also used environmental data from the National Oceanic and Atmospheric Administration and the Chesapeake Bay Program to link dolphin sightings to factors such as temperature and salinity in the Bay.
Where are Dolphins in Chesapeake Bay?
Dolphin sightings peak in the summer months
Dolphins were often sighted around the coastal areas of the Chesapeake Bay, as well as the mouths of multiple tributaries, including the Potomac River, Rappahannock River, and the York River.
The weekly sightings of bottlenose dolphins were significantly related to temperature and salinity throughout the Bay, with dolphins preferring water temperatures about 68 degrees Fahrenheit and specific salinity ranges in different regions of the Bay.
 In the Lower and Middle Bay, dolphins were sighted more often during spring tides, which is a tide during a new or full moon.
The paper "Spatial and temporal variation in the occurrence of bottlenose dolphins in the Chesapeake Bay, USA, using citizen science sighting data" by Lauren Kelly Rodriguez, Amber D. Fandel, Benjamin R. Colbert, Jamie C. Testa, and Helen Bailey of the University of Maryland Extension was published in PLoS ONE.