Annapolis, Md. (April 27, 2011) – An independent scientific analysis led by University of Maryland Center for Environmental Science researchers details a four percent decline in Chesapeake Bay health for 2010, with the nation's largest estuary receiving a "C-minus" in the Center's annual EcoCheck report card. This year's grade was driven by declines in water quality and biological health indicators due to higher rainfall and associated stormwater runoff flows in many regions and river systems throughout the Bay.
The Chesapeake Bay ecosystem's health is affected by many factors, including human activities and natural variations in rainfall, which is the major driver of stormwater runoff from urban, suburban and agricultural sources. Even as improvements are made in reducing pollutant inputs, higher rainfall and associated runoff can mask the effects of these improvements.
Researchers believe that two closely timed, large-scale weather events in winter 2010, played a role in the decrease from 2009's "C". This year's declines are the first observed since 2003 and are on par with conditions observed in 2007.
"One of the main drivers of annual conditions in Chesapeake Bay is river flow related to weather patterns," said UMCES-EcoCheck scientist Dr. Heath Kelsey. "While efforts to reduce pollution have been stepped up in recent years, nature overwhelmed those measures in 2010 and temporarily set the Bay back a bit."
"Annual variability in scores, which are affected by changes in the weather, are to be expected in highly complex ecosystems like Chesapeake Bay, even as implementation of pollutant reduction practices are increasing," added Dr. Kelsey.
"This year's grade clearly demonstrates the importance of our continuing work to bring urban/suburban and agricultural runoff under control," said Acting Maryland Secretary of the Environment Robert M. Summers. "The higher river flow and associated polluted stormwater runoff in 2010 caused the grade to drop slightly from the 2009 level, but the overall improvement in the health of the Bay that we have seen since 2003 is continuing. We need to ensure that all of the pollution reductions required by Maryland's Watershed Implementation Plan, including those related to polluted runoff, are completed if we want to fully restore the health of the Bay."
Grades improved in only two reporting regions (Virginia's James and York Rivers), declined in nine regions, and remained unchanged in three. Lower scores were observed in the Lower Eastern Shore (Tangier Sound), Maryland's Lower Western Shore, Mid Bay, Patapsco & Back Rivers, Potomac River, Rappahannock River, Upper Bay, Upper Eastern Shore, and Upper Western shore regions. This year was the first time since 1996 that two regions scored an F, which were the Patapsco and Back Rivers and Lower Western Shore (MD) regions.
The Lower Bay score stayed relatively steady from 2009, but the Mid- and Upper Bay regions declined slightly. Results were fairly consistent in that declines were seen in most indicators.
The report card, based on data collected by state and federal agencies through the Chesapeake Bay Program, provides an independent analysis of Chesapeake Bay ecosystem health. It is expected that Bay Health Index scores will increase over time, as restoration and pollutant reduction activities are increased.
The report card analysis is conducted through the EcoCheck partnership between UMCES and the NOAA Chesapeake Bay Office. In addition to the Baywide report card, UMCES is working with local watershed organizations to develop river-specific report cards to give residents a creek-by-creek look at their local waters. Many of these reports are funded by the Chesapeake Bay Trust and use data collected by trained citizen scientists. This provides the organizations with a new set of tools to better explain local ecological health to their communities.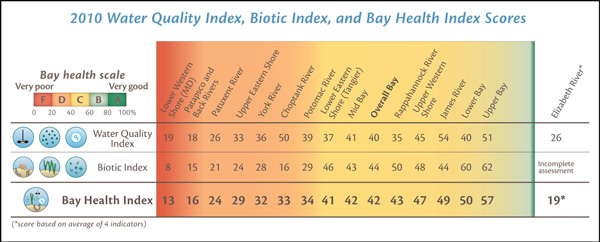 The University of Maryland Center for Environmental Science is the University System of Maryland's environmental research institution. UMCES researchers are helping improve our scientific understanding of Maryland, the region and the world through five research centers – Chesapeake Biological Laboratory in Solomons, Appalachian Laboratory in Frostburg, Horn Point Laboratory in Cambridge, Institute of Marine and Environmental Technology in Baltimore, and the Maryland Sea Grant College in College Park.
For more information about the 2010 Chesapeake Bay Health Report Card including region-specific data and downloadable graphics, visit http://www.eco-check.org/reportcard/chesapeake/.
# # #
Media Contact: David Nemazie, 443-496-0187