Since the explosion of the Deepwater Horizon oil rig, cleanup crews have used chemical dispersants to minimize the spill's impact on the Gulf coast. Designed to break down crude oil – similar to the way dish soap breaks down grease – dispersants have played a large role in the management of the spill.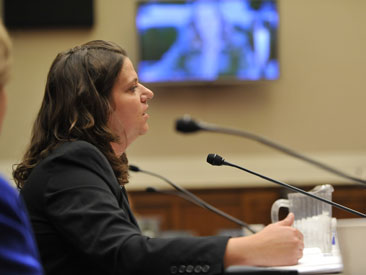 Dr. Carys Mitchelmore testifying before the House Energy and Commerce Committee on May 21, 2010.
As the volume of dispersants has increased, questions have been raised by scientists, policymakers and the media about their long-term impacts on the Gulf. An expert on the role of dispersants in aquatic ecosystems, Chesapeake Biological Laboratory scientist Dr. Carys Mitchelmore has played an active role in the public discussion by providing expert testimony at several Congressional hearings and through the media.
In addition to her ongoing research into the effects of dispersants on corals, Dr. Mitchelmore co-authored the 2005 National Research Council report "Oil Spill Dispersants: Efficacy and Effects." The report is widely considered one of the most thorough looks at the environmental impact of dispersants.