Dr. Jaqueline Grebmeier has seen the impact of climate change on the Arctic first-hand. A research professor and biological oceanographer at the University of Maryland Center for Environmental Science's Chesapeake Biological Laboratory, she has been working for more than 30 years to understand how Arctic marine ecosystems respond to environmental changes. This spring, she was given the President's Award for Excellence in Application of Science for her exceptional and sustained contributions to the understanding of the Arctic.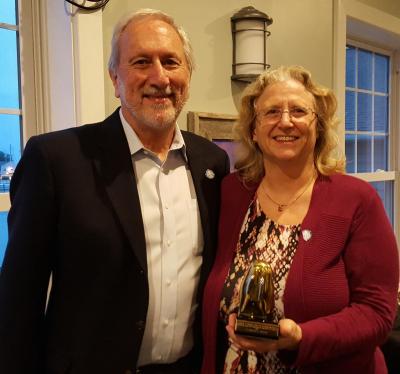 "Jackie is a scientific thought leader on one of the most rapidly changing ecosystems in the world's oceans, the Arctic," said University of Maryland Center for Environmental Science President Don Boesch, who has recognized faculty annually with this award for 17 years. "From her home base in Southern Maryland, she exemplifies both the global reach of UMCES and our commitment to bring scientific knowledge to bear in addressing the planet's most pressing challenges."
Grebmeier's research is focused on understanding how Arctic marine ecosystems respond to environmental change, particularly the importance of biological systems living on the bottom of Arctic seas. She has participated in more than 45 oceanographic expeditions on both U.S. and foreign vessels, many as Chief Scientist. She was the overall project lead scientist for the U.S. Western Arctic Shelf-Basin Interactions project, which was one of the largest U.S. funded global change studies undertaken in the Arctic.
Called a "first-rate science diplomat," she has played a leadership role in coordinating and promoting national and international Arctic research, including leading an international team of scientists to establish a Distributed Biological Observatory in the North American Arctic. Funded by a five-year award from the National Science Foundation, she coordinated researchers from Japan, Korea, China, Canada, Russia, and the United States to systematically track the biological response to sea ice retreat and the resulting environmental changes in the Bering and Chukchi Seas to the west and north of Alaska.
She recently completed service as the U.S. delegate to and a vice-president of the International Arctic Science Committee and served as a member of the U.S. Polar Research Board of the National Academies. In 2000, President Clinton appointed a commissioner to the U.S. Arctic Research Commission in recognition of her exceptional contributions to Arctic marine research, particularly in the areas of benthic ecology and marine ecosystem dynamics.
She has contributed to other coordinated international and national science planning efforts, including service on the steering committee for U.S. efforts during the International Polar Year, a collaborative effort to research the polar regions. Her leadership on the recently completed Pacific Marine Arctic Research Synthesis is considered a watershed contribution to the Arctic science community and the dialogue about Arctic development.
Her research includes studies of pelagic-benthic coupling in marine systems, benthic carbon cycling, benthic faunal population structure, and polar ecosystem health. She has written more than 100 peer-reviewed scientific papers, and she has served as editor of several books and journal special issues. In 2006, Grebmeier and her colleagues published the seminal paper, "A major ecosystem shift in the northern Bering Sea in the top journal Science, a major step forward in synthesizing and explaining basic research on how the marine ecosystem was evolving in response to climate change.
Dr. Grebmeier earned a Bachelor of Arts in Zoology from the University of California, Davis, in 1977. She went on to receive Master's in Biology from Stanford University in 1979, and in Marine Affairs from the University of Washington in 1983, specializing in applications of Arctic science to Arctic policy. She earned a Ph.D. in Biological Oceanography from the University of Alaska Fairbanks in 1987. 
The President's Award for Excellence in Application of Science was established in 1999 to honor exemplary applications of science that have had a positive impact on environmental protection and management.