17th IMET Summer Internship
June 3 - August 2, 2019
The IMET Summer Internship Program for under-represented minority students is made possible this year by generous funding from the Bunting Family Foundation and an anonymous donor. In addition, one student is being supported by the Chesapeake Research Consortium (CStream), another by the Baltimore Waterfront Partnership and one student by a supplement to a faculty member's National Science Foundation award. Altogether, we are able to support eleven interns, as well as our alumna, Dr. Kate Gillespie, who is working as Coordinator of the program. This Summer Internship Program is very important to us because it provides a productive pipeline for us to recruit students into our graduate program.
Thanks to everyone for making this happen,
Rose Jagus
Weeks 8&9: Putting it all together
The eighth week of the internship wrapped upon Friday July 26. By this stage, the interns are on top of their projects, but are very wrapped up in the details. By next week, they have to have their Powerpoint presentations prepared and rehearsed, as well as a draft of their posters. Dr. Jagus and Gillespie have provided lots of guidance for the design of slides, reminded the interns that in a 10-minute talk, they need to distill the essence of their projects without using heavy methodological descriptions. They are tasked with starting with a conceptual diagram that summarizes their research. This is the starting point. Although it was important that the interns gained useful lab skills, it is just as important fro them to develop science communication skills. We remind them to include active titles and remind them that they will present their findings on Friday August 2, Research Day 2019, in front of friends, family members, lab mates, IMET scientists and professors from their home institutions the information from their slides can be incorporated into a poster that will serve two important functions as they go forward. The posters can be exhibited at any relevant venue during the school year and an 8x11 version can be submitted to the faculty at their home institutions as a testimony to the work they accomplished during the internships. The interns practiced with Dr. Gillespie as well as their mentors and lab mates. For some interns, this was the first time creating formal scientific presentations. Without the help of Dr. Kate Gillespie, who assisted Dr. Jagus as a Program Coordinator this summer, many of our interns would have not been as confident during their presentations on Research Day 2019.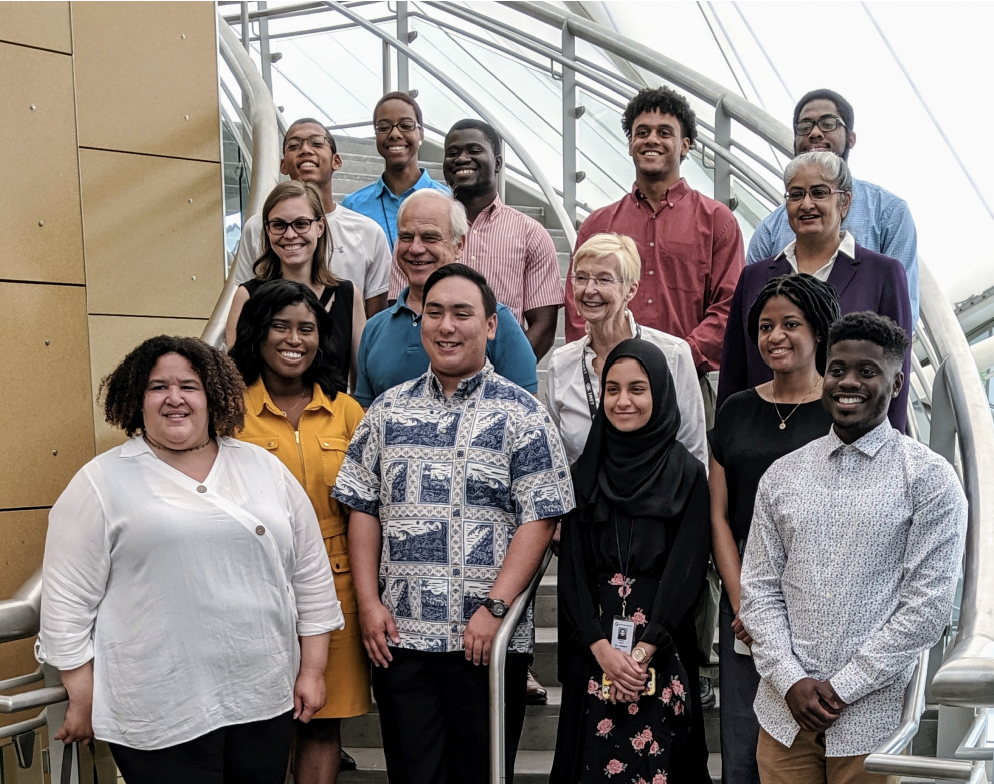 Everyone had a great day buoyed up by their lab members and families. Bill Ball from C-Stream joined us to hear the intern he sponsored. IMET's Assistant Director, Dr. Nina welcomed the visitors and praised the interns. Dr. Kate Gillespie showed us all how to make poetry from our science. He is what our interns talked about:
Abdul Adaranijo: Microbial and molecular screening for microorganisms in the Baltimore Harbor.
Jennifer Akanoh: Developing a RT-qPCR Assay for identifying Toti-like virus in blue crabs.
Nicholas Camacho: Microbial colonization of microplastics.
Daquan Davis: The occurrence of antimicrobial resistance in the Inner Harbor and Aquaculture Research Center.
Aaron Johnson: Optimizing recirculating aquaculture: Microbiological management of solid waste using anaerobic digestion.
Heather Levine: Barley straw and brewer's spent grain as a remediation strategy for toxic cyanobacteria.
Nylah McClain: Genetic typing of gender in reproductively sterile sablefish.
Aiman Raza: Dreissena mussels as indicator species for assessing aquatic biodiversity in Lake Michigan.
Kane Samuel: Comparison of identification methods for potential aquatic bacterial pathogens by MALDI TOF analysis and 16S rRNA gene sequencing.
Amaya Simpson: Myomaker and Myomixer proteins are required for muscle fusion in zebrafish
Adjele (Ruth) Wilson: Isolation of Mandibular-Organ Inhibiting Hormone cDNA Sequence from the Dungeness Crab, Cancer magister.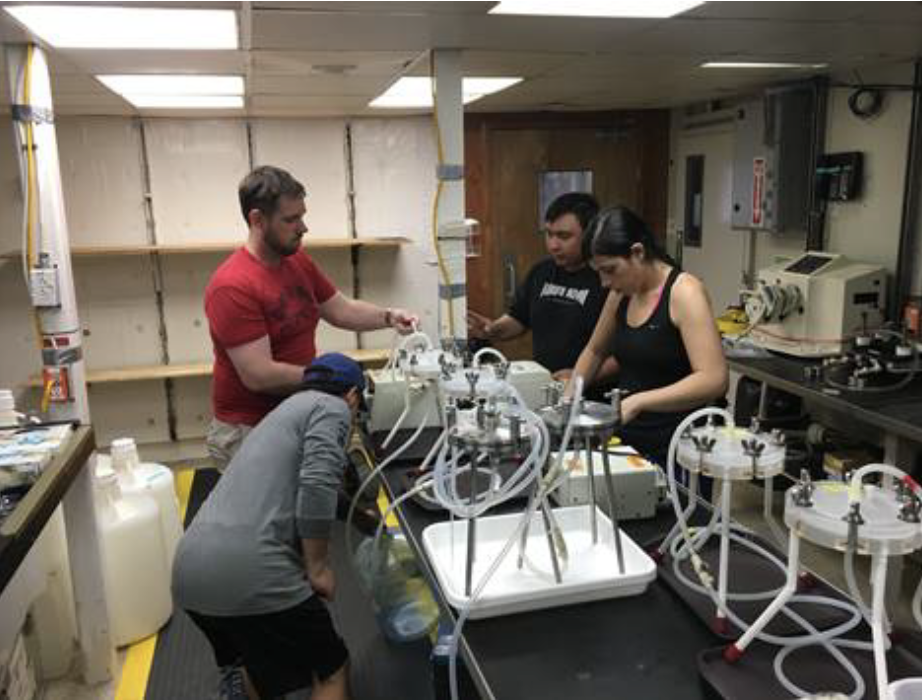 What's next for our interns? The students dispersed ready to go back to school with their certificates and posters. We will miss them. However, before heading back to Stanford University, Nicholas Camacho joined an UMCES-led research cruise in the deep Atlantic 50 miles southeast of Bermuda. The cruise was led by Dr. Chen and Dr. Gonsior and was seeking to understand more about the marine carbon cycle and its role in the global climate. Nicholas was able to learn what science at sea entails and discovered it is nothing like a vacation! Kane Samuel stayed on working with Zooquatics for a couple of weeks after the summer internship ended and has now embarked on an internship with UMCES-IAN in science communication.
Week 7, continued: Who can you learn from?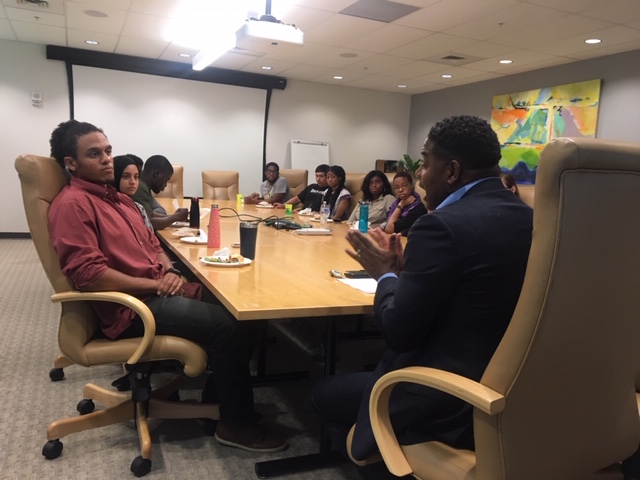 More roundtable conversations this week with local leaders. On Thursday July 18th, we were joined by the first African American CEO of Baltimore Gas and Electric (BGE), Mr. Calvin G. Butler Jr. He stopped by our mentoring session to talk about the energy company's commitment to environmental stewardship and increasing diversity in STEM disciplines. BGE supports a variety of energy technologies: atomic, wind, solar, and natural gas how important STEM education is to the future of energy development. Mr. Butler spoke enthusiastically about how BGE internship programs recruit diverse students from diverse backgrounds, at all levels, and had the potential to foster the development of interns for careers they might never have considered. Our interns were certainly impressed by his presentation, and asked many questions about his views on sustainability, green initiatives, and public outreach.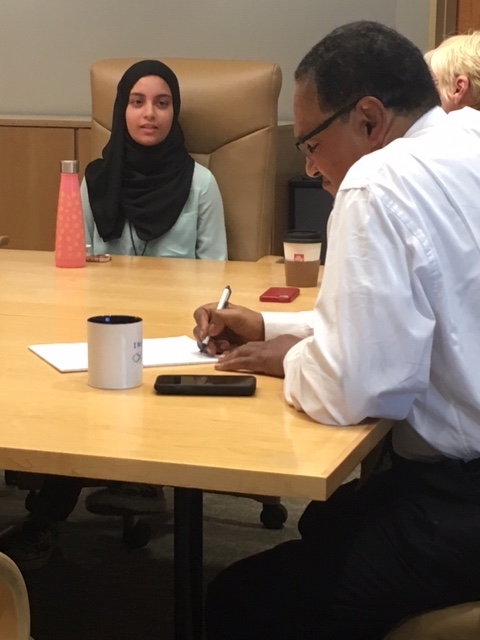 In one of our final Friday mentoring sessions, Dr Freeman Hrabowski III, President of UMBC and cofounder of the prized and emulated Meyerhof Scholars Program, met with the interns for lunch. He was especially pleased to see UMBC students like Aiman and Jennifer. President Hrabowski told us that only 5% of undergraduates enrolled in degrees in STEM in the US, compared to 11 % in Europe. For African-American students, the graduation rate in STEM disciplines is only 20 % compared to almost 40 % for white students. With his signature charisma and no-nonsense attitude, Dr. Hrabowski easily facilitated an interactive conversation with the interns to get them thinking more about what it takes to be successful in STEM and to pursue their dreams of higher education in the sciences. It was clear to see the interns were very energized by his words. And he listened carefully to what they said. One of the most difficult questions asked was "How do thrive in a environment in which I seem all alone?" President Hrabowski had no difficulty answering this question because it is common one for underrepresented minorities in the sciences. The short answer? Find support, speak up, be resilient and show true grit!
Week 7: Barley water for what algae ya!
With only two weeks left in the IMET Internship Program, Dr. Gillespie asked the interns to share more about: What went wrong, what went right, and what was a cool thing about of your research?
By majority rule, the "wrong" that happened most often was in manipulating techniques, especially the running of PCR (polymerase chain reaction), a means to identify and amplify DNA. This technique can be tricky even in the hands of experienced scientists; the amplification of DNA is so efficient that it is very easy to get contamination from "lab sources". The interns were not exceptions to this problem! Fortunately, good things were also happening included finding new primer sets that made PCR reactions more specific (Yay!), preventing amplification of host DNA when looking for diet items in gills and stomachs, and running "nice looking" agarose gels.
Here are some "cool" things shared by the students: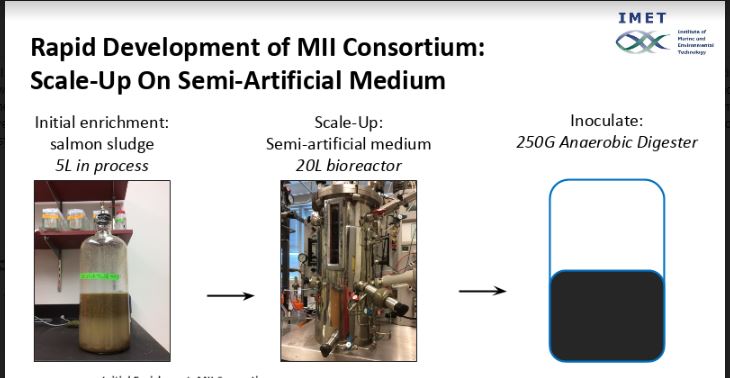 Aaron developed a scheme for inoculating microbial consortia that need to be "scaled up" in the large recirculating aquaculture systems. Salmon sludge anyone?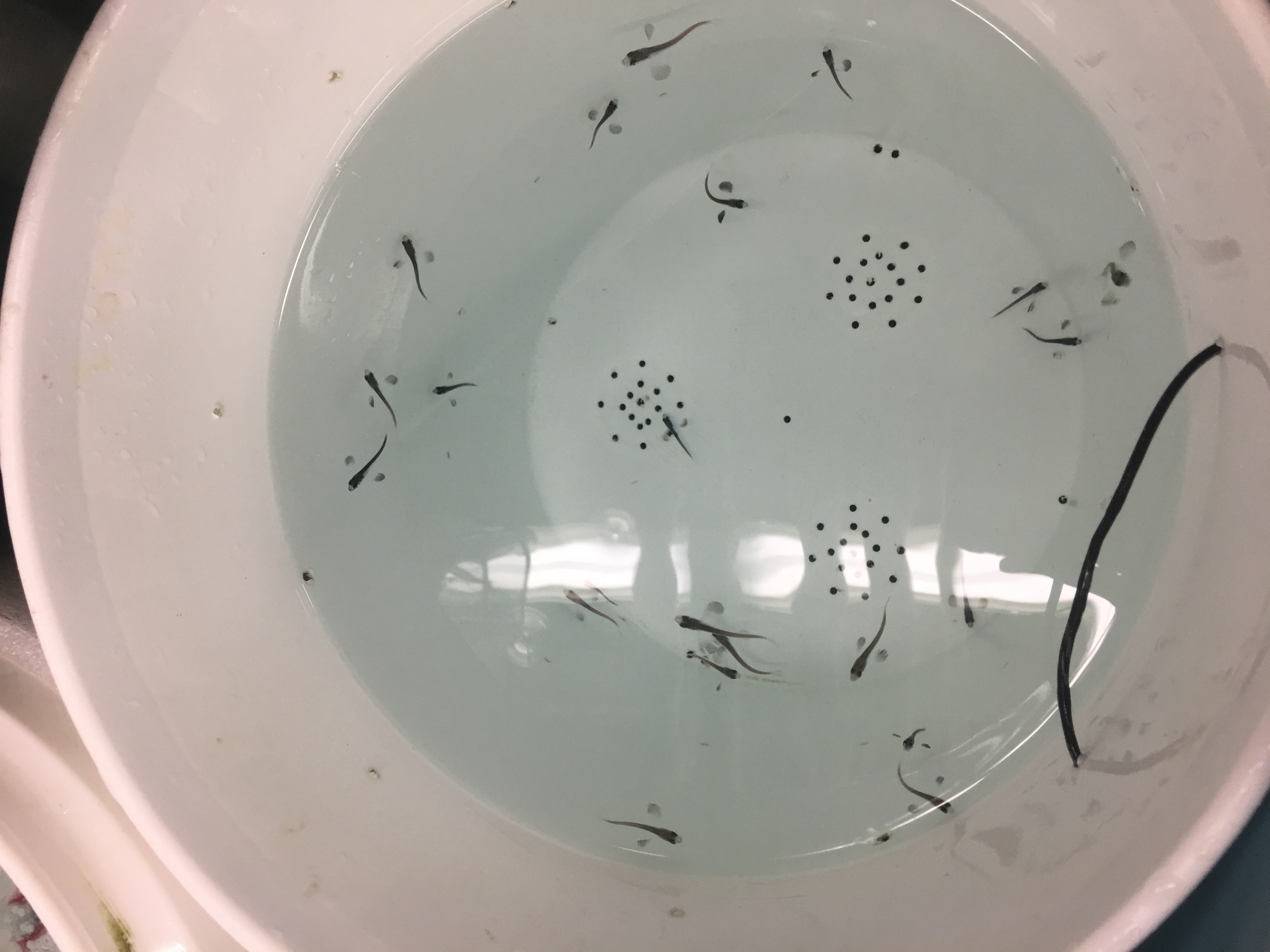 Nylah set up mini-tanks for sablefish fry, so they can develop protected and undisturbed.
Amaya has zebrafish that have been genetically modified with respect to developmentally important muscle proteins.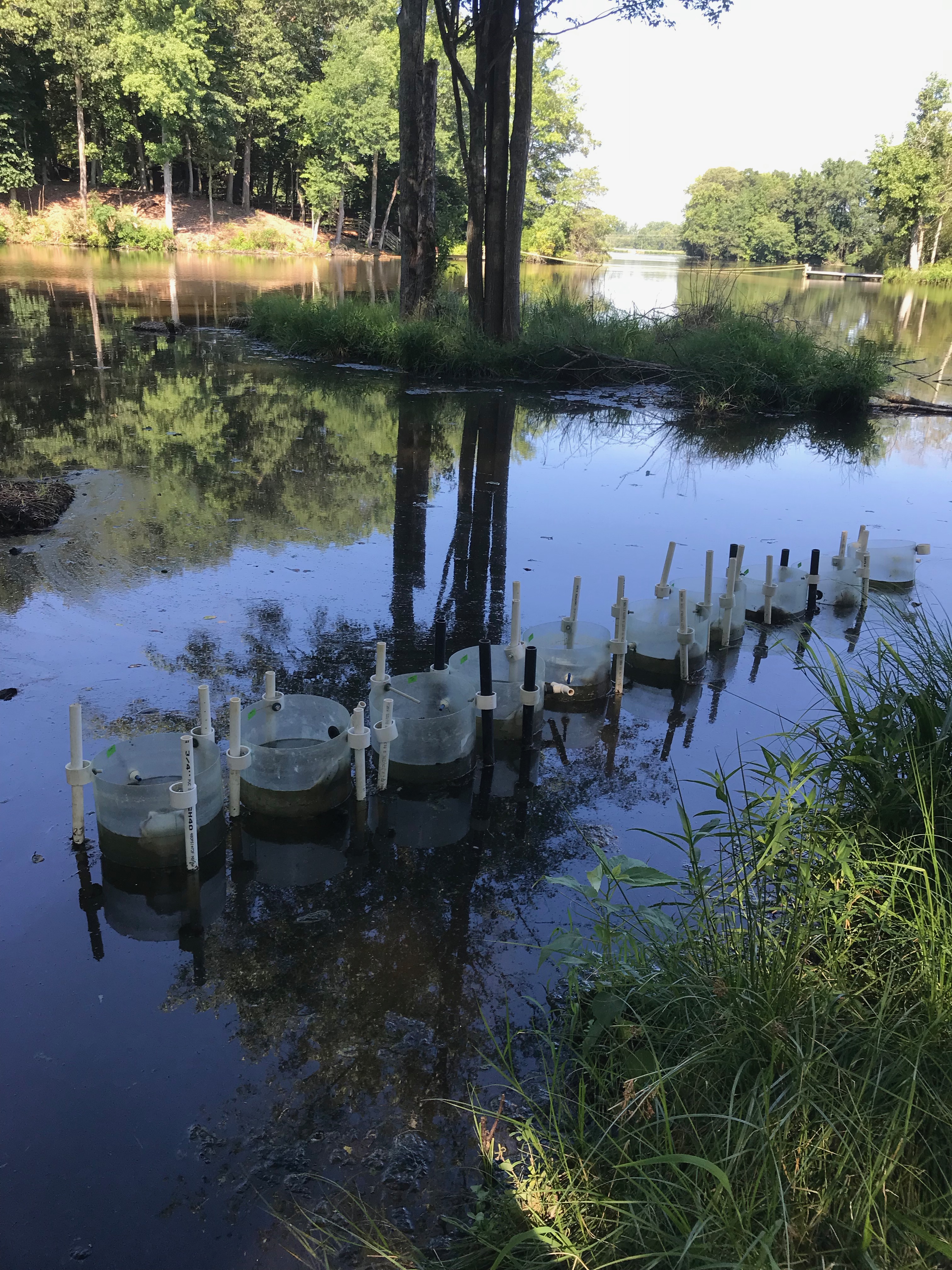 Heather is working on deploying barley straw and spent grain in plastic "microcosms" in a Girl Scout camp lake to evaluate their inhibitory effects on the growth of toxic Microcystis algae.
Week 6: Do you know where your narrative is?
It's July 12th and already week six. The internships at IMET are racing forward.
It's important to ask: What will be the impact of this summer on what the interns do back at their home institutions? While it is great to see the students growing so much over the summer, it is also important to make sure they continue growing after our nine weeks are over. And, that they know what their research story is. Just because you're in a room full of scientists, it doesn't mean that everyone is going to understand everything you're saying or even care for that matter. It's up to the presenter to find unique ways to engage with the audience and keep them interested.
To this end, Dr. Gillespie asked the interns to work on their ABT statements which stands for " And, But, Therefore". This is a method by which to tell an impactful story and make people care! In order to give them an engagement tool, each intern was given another's to critique. These were collected, typed up, and given back. The purpose was to encourage honest feedback in a "safe space" for students to better evaluate their peers.
That Friday lunch meeting, our science interns had the opportunity of meeting staffers and interns from Congressman Ruppersberger's office and learned that the Congressman was eager to find ways to assist in our scientific endeavors. This interaction was arranged by Ashley Meyer, Director of Government and Business Relations and Dr. Nina Lamba, IMET's Assistant Director. A topic of discussion between intern groups was how does one become an intern? IMET interns were interested in what high schools the Congressman's office recruited from and ventured that reaching into different high schools would allow the recruitment of a more diverse intern group. IMET interns also suggested that paying interns a stipend allows recruitment from a wider range of socioeconomic groups. IMET Director, Dr. Russell Hill, pointed out that reduction in the number of J1 and H1 visas had seriously reduced the number of talented foreign scientists who can be recruited to the US, diminishing the competitiveness of our scientific endeavors. He also addressed the growing difficulty in holding international scientific meetings in the US because it was increasingly difficult highly respected scientists from certain countries to receive visiting visas.
Week 4: Communicate your Science Creatively!!!
Week 4 of the IMET Summer Internship was completed on June 29, 2019. The week was bracketed by two workshops: On Monday the students were introduced to the UMCES Interactive Applied Network (IAN for short) science communication through a workshop run by Dr. William Dennison and with his colleagues Emily Nastase and IAN intern Sky Swanson.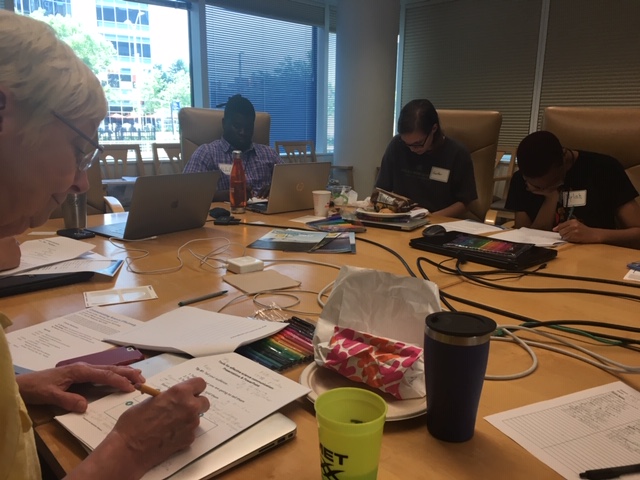 This is now a tradition for the summer interns at IMET, a day taken to expose them to creative ways to present their research. The session began in the morning, with workbooks and colorful markers provided to all, used to follow along with the presentation and fill in the banks. 
Since a picture tells a thousand words, clever use was made of complex scientific realities such as urbanization, nutrient runoff causing eutrophication, or warming waters influence on climate change. A game was played in teams, each student having a chance to draw a "conceptionary"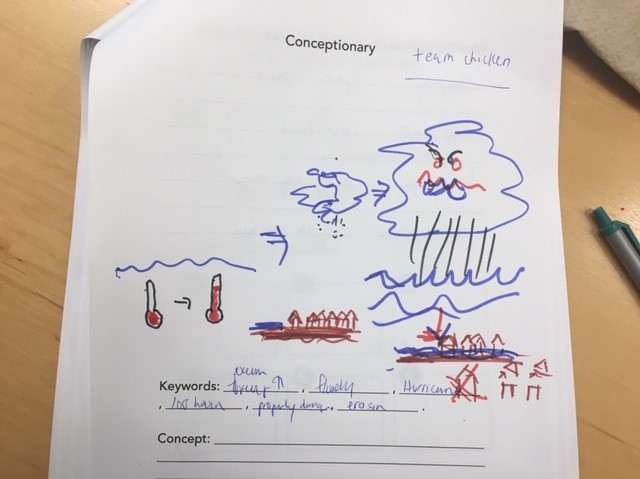 diagram based on key words and a concept. It was challenging, but using conceptual diagrams and icons (examples: stop signs, colors, skull and crossbones, thermometers, animal shapes etc) the students were able to get their points across quickly a for a wide audience. Each team was judged for clarity and creativity and a lucky few teams won some swag! In the picture below, the concept was rising temperatures causing greater storms and coastal residential home damage. Do you see it?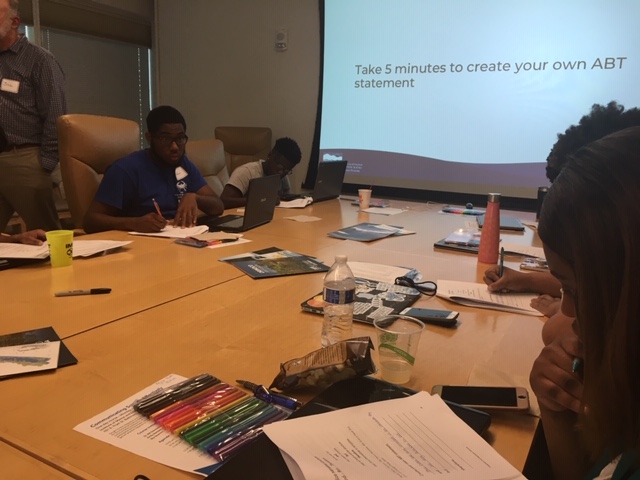 The later part of the afternoon was given over to discussing how to create a good PowerPoint slide and poster presentation by  (INSERT NAME), a recent IAN intern. Since the students will be  giving a 10 minute talk on their research at the end of the summer, this coaching will be invaluable. Dr. Dennison introduced the concept of the narrative statement; in which your story is told in an "ABT" format.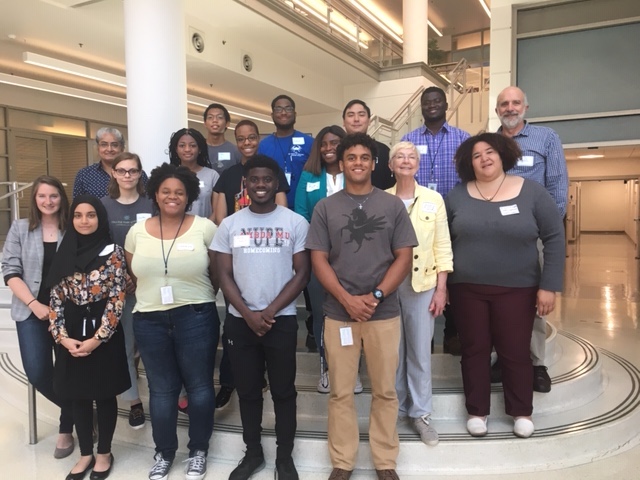 This stands for "and", "but" and "therefore". Any good narrative will have this set-up, which guides the audience into understanding what you did and why you did it. The students used their projects as their building material and some feedback was given by Dr. Dennison and his colleagues. However, Dr. Gillespie expanded this exercise and charged the interns with critiquing each other's ABT statements (For anonymity, she randomly gave out each student's work to another. They returned it to her to provide to the author). Being confident in giving honest and constructive feedback is a good way to strengthen each other's work, and is a great exercise for any undergraduate to have.
Kathleen "Kate" Gillespie had just come back from a Science and the Arts (STEAM) conference called CESTEMER held at the New York Institute of Technology where she held a workshop using scientific material as a source for creating poetry. She asked for journal articles that were published from each student's mentor, which was relevant to the research they were conducting.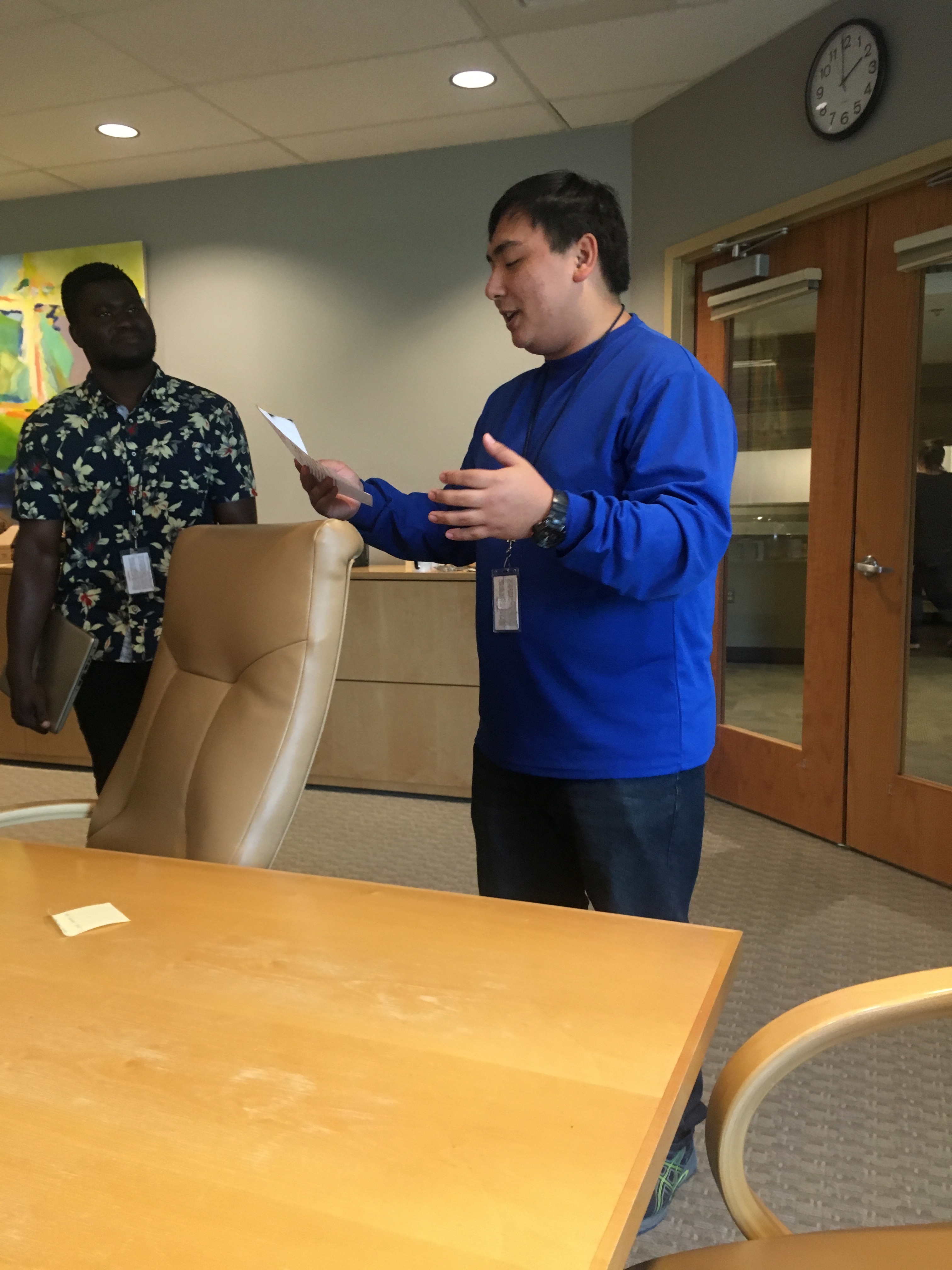 Kate gave them the abstract, the short summary that always is part of any paper, then asked them to create poetry by "subtracting" or blacking out the words they did not want. They could also highlight, circle, block, or underline the words they wished to keep. Some came out very colorful, a bonus visual art piece! But all the poems celebrated certain words that appealed to the creativeness inherent in these students and in all scientists. Afterwards, all were encouraged to share verbally, and here is Nicholas reading like a beat poet. As part of our student engagement, Kate intends to make a chatbook and post the work on her Facebook site for Science in Poetry.
These will be a chance for each student to share their ABT statements and poems at the Student Research Day at the end of the nine-week program. They've already accomplished so much, but with just under four weeks left, there is still a lot more to learn and share.
Week 3: The path is not always a straight line
At the conclusion of their third week at IMET, interns had a chance to discuss the progress they have made in their labs and talk with Ammar Hanif, a current LMRCSC funded Ph.D. student in the Jagus lab who is getting ready to defend his dissertation. What they found is that, in research and in careers, the path is not always a straight line. Dr. Rose Jagus asked about any challenges interns had encountered in their labs.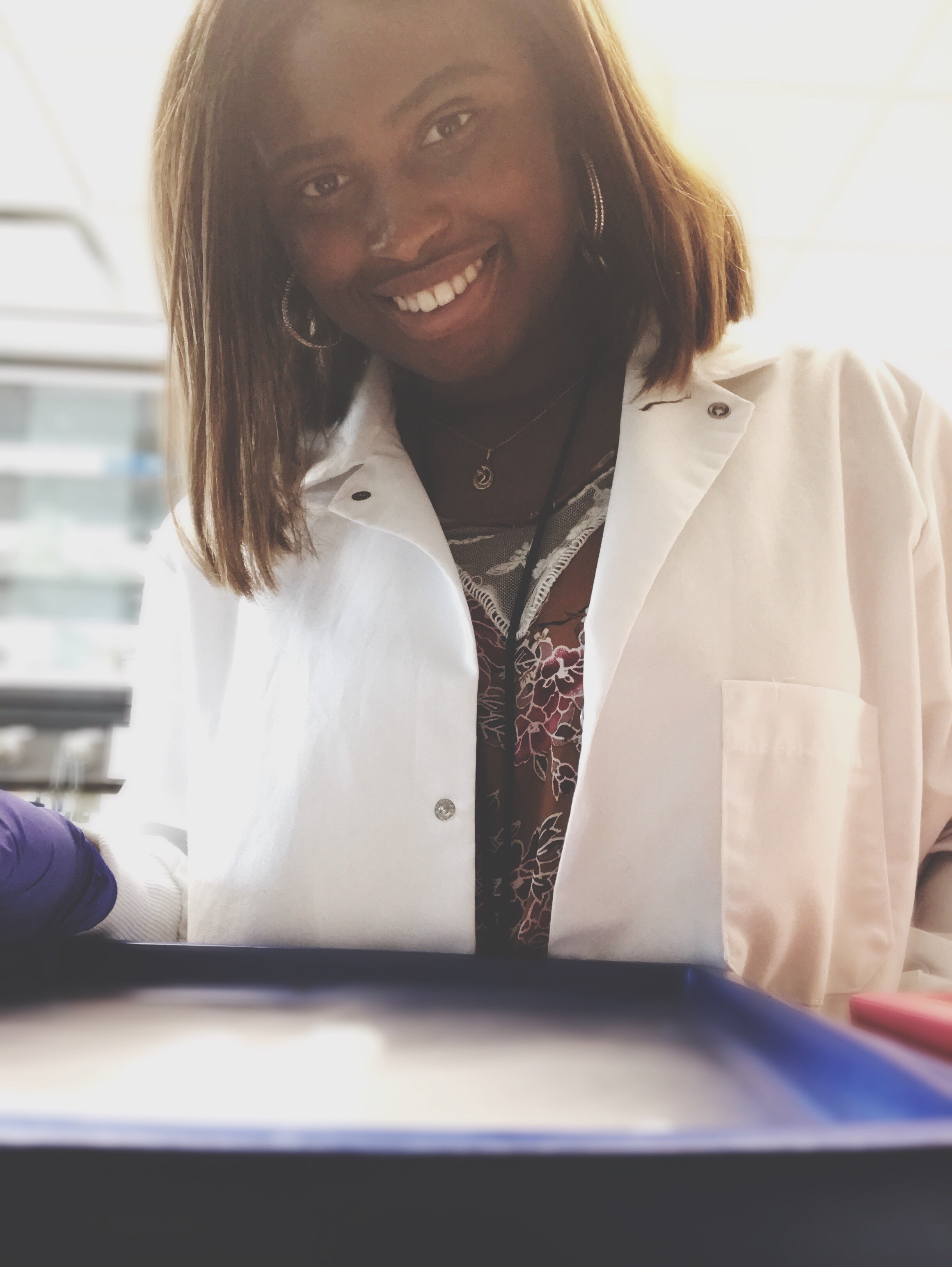 Ruth, who is working in the Chung lab on crab development, shared that she had to change the focus of her research because she ran out of samples. She began to work with different crab samples and started a secondary investigation to see how crabs manage nutritional stress early in life. Likewise, Kane was managing some unexpected complications due to an equipment issue. These setbacks have forced the interns to alter their courses and focus on different elements of their research than they had originally intended. Dr. Jagus commented, "As scientists, we're never short of plan Bs."
Ammar Hanif sympathized with students experiencing challenges in their research, saying, "Research is a lot of trial and error, a lot of getting frustrated because you don't see things working." He also shared his personal career track, highlighting how certain moments shifted and guided his path. Ammar began his higher education at Baltimore City Community College and, through a set of happenstance connections, decided to complete an Associate's degree in biotechnology. After switching to Morgan State to complete his B.S. Ammar became connected with IMET through an internship in Dr. Feng Chen's lab, and returned to Dr. Eric Schott's lab first as a summer intern and later as a master's student. Last year, Ammar was awarded a prestigious John A. Knauss Marine Policy Fellowship by national SeaGrant.  The Knauss Fellowship places fellows in the offices of congress people or in federal agencies. Ammar completed his fellowship with the NOAA-NCCOS Mussel Watch Program, using molecular techniques to understand what zebra mussels in the Great Lakes are consuming. He could not have imagined this when he entered BCCC with dreams of becoming a doctor.
Overall, this has been another great week for the interns at IMET. In addition to continuing research in the labs, Kane had the unique opportunity to speak with the University System of Maryland Board of Regents at the UMCES-Horn Point Laboratory. This allowed him to showcase the benefits of inter-campus collaboration. Kane attended Frostburg University and undertook an internship at the UMCES-Appalachian Lab (AL) in Frostburg lab during his studies. Now at UMCES-IMET, he's getting a chance to work on a very different project, but using his skill sets developed at AL. Kane was impressed by the Horn Point Laboratory campus, where the event was held, and enjoyed speaking with Dr. Freeman Hrabowski, President of UMBC. In a couple of weeks, Dr. Hrabowski will join the interns for one of their weekly lunches. Stay tuned!
Week 2: A fine day out at Chesapeake Biological Laboratory
June 14th capped off the second week of our internship, and as the interns might tell you, summers for us here at the Inner Harbor are anything but boring. Besides being trained in the lab next to biotechnologists and proficient researchers, there is always time to take the learning on the road. The interns did just that by traveling down to Solomons Island to visit Chesapeake Biological Laboratory (CBL), another unit of UMCES, and stop by the Calvert Maritime Museum.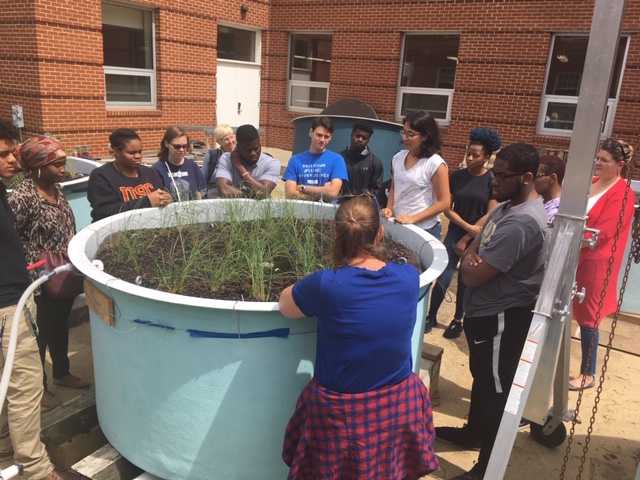 The students travelled to beautiful Solomons Island to meet with the UMCES researchers at CBL and take a tour of the facilities. Dr. Ryan Woodland, a collaborator of IMET's Dr. Eric Schott, arranged our visit. Dr. Woodland, Dr. Lora Harris and Dr. Schott collaborate in a project called "Of Animals and Microbes: A Baltimore Harbor Investigation" funded by the France Merrick Foundation. Dr. Woodland introduced us to Dr. David Secor who greeted us in the library and gave an overview of the research at CBL campus. He spoke of his work tagging and tracking migratory fish including striped bass. He told us how his new masters student, and former IMET summer intern, Benjamin Frey, is working on a new way to determine the age of monkfish by microconstituent analysis of the otoliths (earbones) to determine fish age.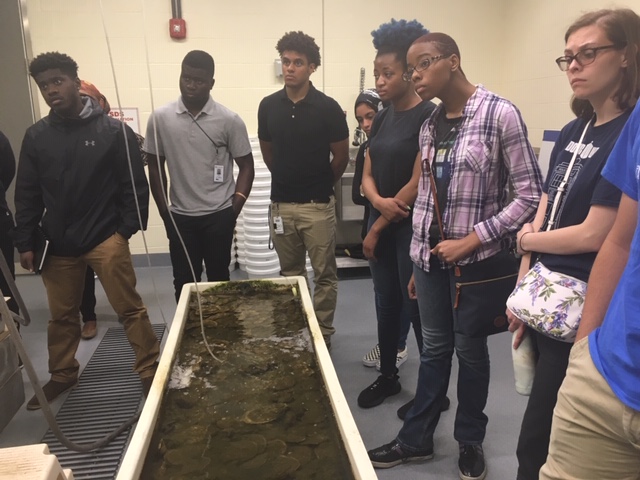 Skyler Golt, led the group on an fascinating look into the newest facilities where the interns observed a simulated oyster reef and had some one-on-one interaction with a horseshoe crab. Next was a new oyster hatchery, where different strains of oysters can be monitored for growth 5 under varying conditions of salinity and water temperature to optimize production of oysters out in the Chesapeake Bay.
Outdoors, Dr. Lora Harris and her student Isabella introduced the students to the wetland mesocosms and discussed how they were created to mimic the ebb and flow of tides to study how efficiently marsh grasses can reduce the nitrate and phosphate in the water. Dr. Harris also touched on practical information for interns, including knowing the difference between a mentor and a sponsor and how internships enable students to develop support networks.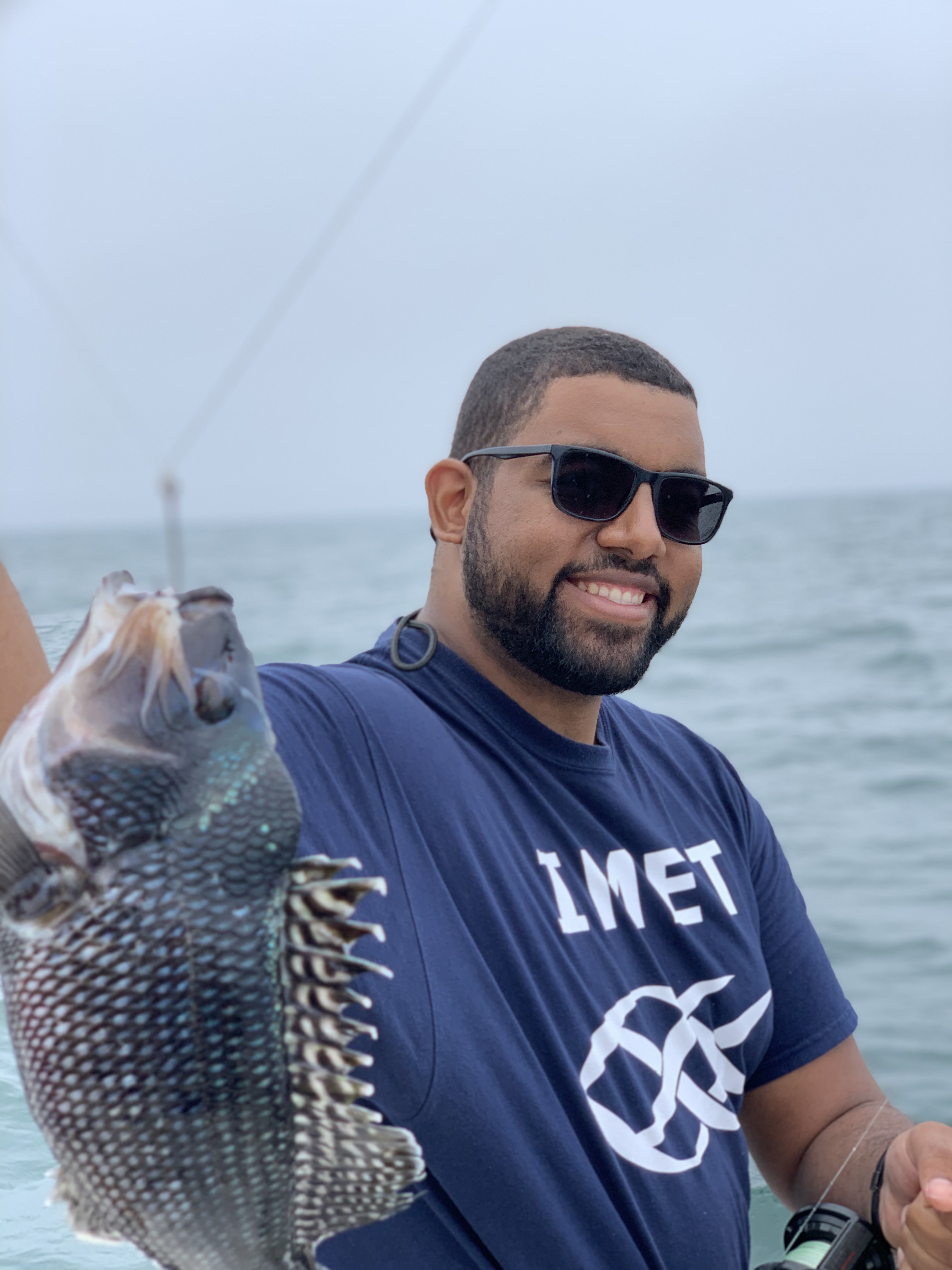 The tour finished up with a walk on the pier and through the marina, where the research vessel, Rachel Carson, was coming into back into port from an expedition. Lunch was served, and a general mingle occurred between the CBL graduate students/interns with the IMET interns, and some new connections were forged. Ben Frey, a 2018 Bunting Summer intern, met with us later at lunchtime and told us of his recently acquired skill in catching black sea bass.
Before departing Solomon's Island, the group visited the Calvert Maritime Museum and everyone enjoyed wandering around exploring the Calvert Cliffs fossils as well as living exhibits, including playful otters! There was also a sizable outside area complete with saltmarsh and a lighthouse. All in all, a fine day out for both science and saltmarsh adventures.
Week 1: Take a look at the highlights!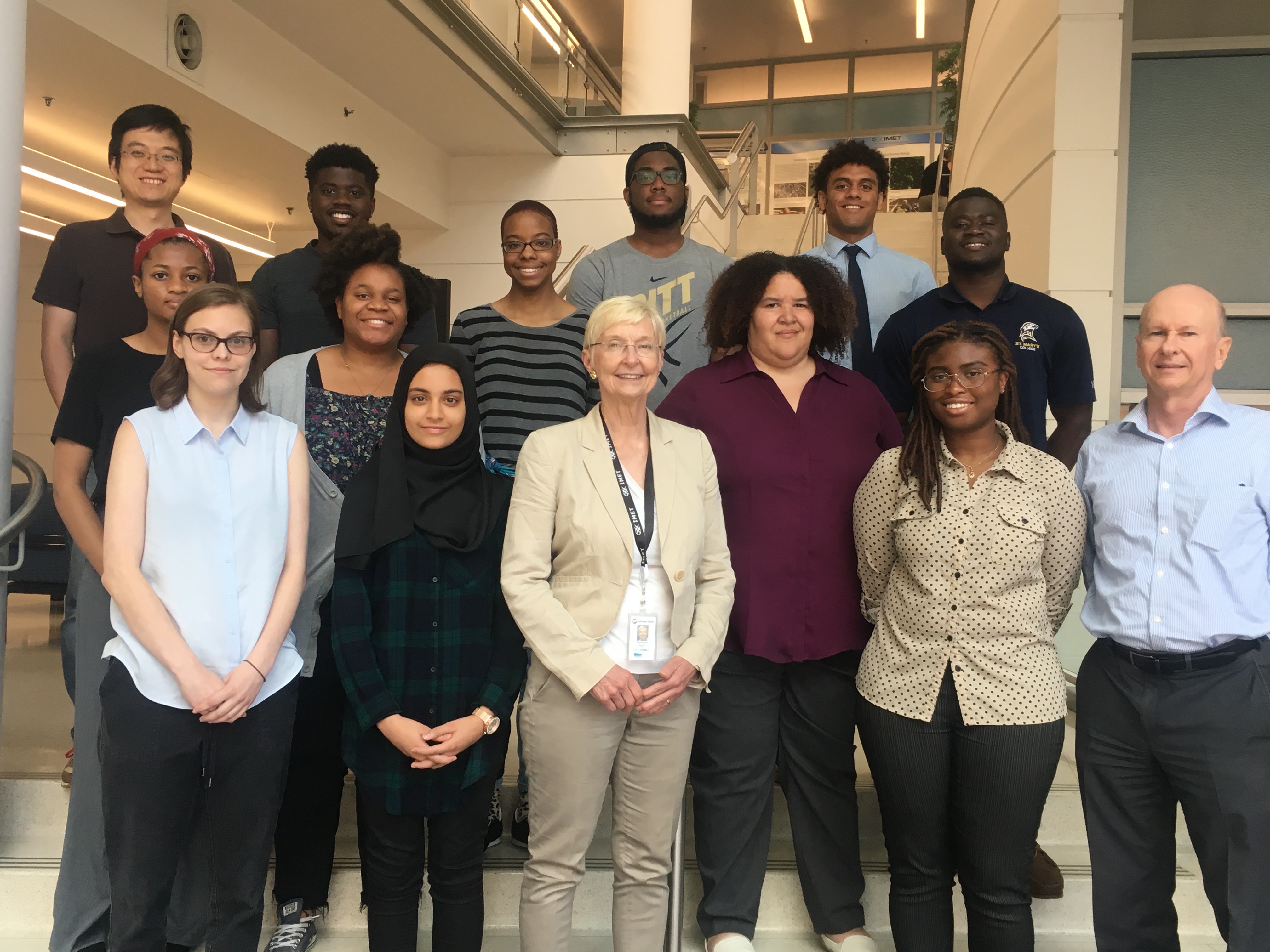 On June 3rd, IMET welcomed the 2019 summer interns to IMET, marking the 17th year that Dr. Jagus has organized and directed an undergraduate summer internship program at IMET. We are especially grateful to the Bunting Family Foundation and other donors for their support of this year's program. Without them, we would not be able to mentor the next generation of environmental scientists.
The internship kicked off with a day-long orientation that allowed the interns to meet some of the new faces they'll be seeing at IMET over the next nine weeks. They were also given the opportunity to meet with their mentors, lab mates, and see the labs they'll be calling home.
As part of the requirements for the internship, the interns are tasked with a nine-week research project that will be presented on their last day. By Friday of their first week, most of the interns already had a project in mind, although still reading the necessary preparatory materials to get caught up on current projects and methods. All of the interns had started working in the labs, developing their research plan, testing samples, working with DNA, handling crabs and fish, and much more.
Each Friday, Dr. Jagus holds a mentoring session with the interns to learn about the progress of their projects and also provide them with helpful information and discussions that will enhance their skill sets. Some of these discussions include learning how to communicate science, professional etiquette, introductions to the bio-analytical services available at IMET. Over the course of the internship, guest speakers will come to inspire them, talk about their own research journeys, as well as emphasize the importance of the work they are doing here.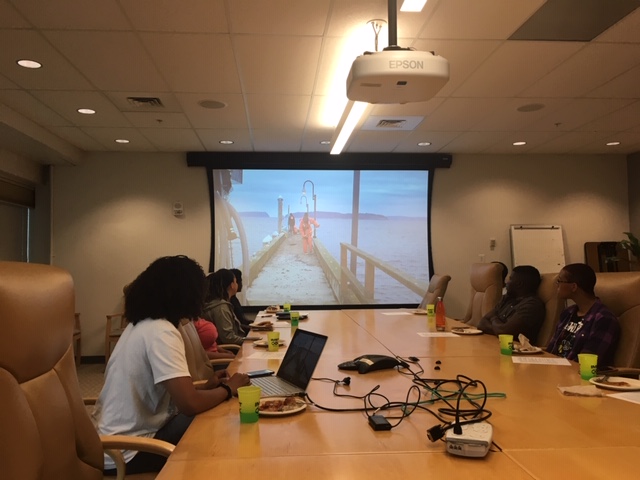 During our first Friday session, the interns met our LMRCSC masters student, Amanda Lawrence, fresh from her 12-week NOAA Experiential Research and Training Opportunity (NERTO) where she was investigating the effects of ocean acidification on larval development of the Dungeness crab in a NOAA-National Marine Fisheries Service lab on the west coast. NOAA uses these experiences to acquaint students with career opportunities in a federal agency, but also to take advantage of the unique skills our graduate students have. Here Amanda is showing a U-tube video of the Mukilteo Field Station in Mukilteo, WA, near Seattle, bordering the Straits of Juan de Fuca. She worked to develop methods for respirometric measurements of juvenile Dungeness crabs with a long term goal of predicting how elevated levels of carbon dioxide in seawater can affect survival, growth and other response metrics, such as metabolomics. (Yes, that is Amanda on the dock, suited up in red). Amanda also shared wonderful pictures of the Pacific waters, the marine life (including orcas), glimpses of Mt. Rainier from her picturesque island stay. She travelled to work each day by ferry. Through her, the students could see what a grand adventure a NOAA internship can be, and the possibilities for their own involvement someday.
Next week: a field trip to Chesapeake Biological Laboratory, Solomons, MD